Houthis hijack India-bound British cargo ship; release video (WATCH)
A video released by the Houthis showed armed men descending onto the ship's deck from a helicopter. Israel denounced it as an "Iranian act of terrorism," while the Houthis insisted the ship had Israeli ties. The vessel's owner, Galaxy Maritime Ltd, reported it was now in the Hodeidah port area in Yemen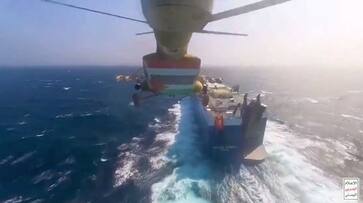 The Yemen-based Houthi militant group claimed responsibility for the seizure of the India-bound cargo ship, Galaxy Leader, in the Red Sea. The Houthis released a video of the ship on their TV channel, Al Masirah. The ship, initially reported as Israeli-linked was later identified by Israel as British-owned and Japanese-operated. The veracity of the video is yet to be confirmed. Israel denounced the incident as an 'Iranian act of terrorism', while the Houthis, aligned with Tehran, insisted that the ship had Israeli ties. The video footage showed approximately 10 armed men descending onto the ship's deck from a helicopter and taking control of the bridge.
The current location of the Galaxy Leader is reported to be in the Hodeidah port area in Yemen, according to the vessel's owner, Galaxy Maritime Ltd. The United States condemned the seizure, considering it a breach of international law, and called for the immediate release of the ship and its multinational crew.
The Bahamas-flagged Galaxy Leader is chartered by Japan's Nippon Yusen and has a crew composed of nationals from Bulgaria, Ukraine, the Philippines, Mexico, and Romania. The Houthis claimed the hijacking was in protest of the ship's connection to Israel and vowed to target vessels linked to or owned by Israelis until Israel concludes its campaign against Gaza's Hamas rulers.
In response to the incident, Israeli Prime Minister Benjamin Netanyahu's office attributed the attack to the Houthis, emphasizing that no Israelis were on board. The Houthi spokesman, Mohammed Abdul-Salam, declared the ship's detention as a practical step in waging a sea battle, asserting that the move demonstrated the seriousness of the Yemeni armed forces. He stated that the Israeli ship's detention was the beginning of their campaign, emphasizing the necessity of using force to communicate with Israel.
Last Updated Nov 21, 2023, 9:03 AM IST