COVID-19: How to maintain social distance in public places, here's WB man's innovative idea
India is now under a 21-day lockdown, but the essential goods markets are open. It may be hard to maintain any social distance at this crucial time. But this man from West Bengal has suggested an interesting way to save oneself from coronavirus.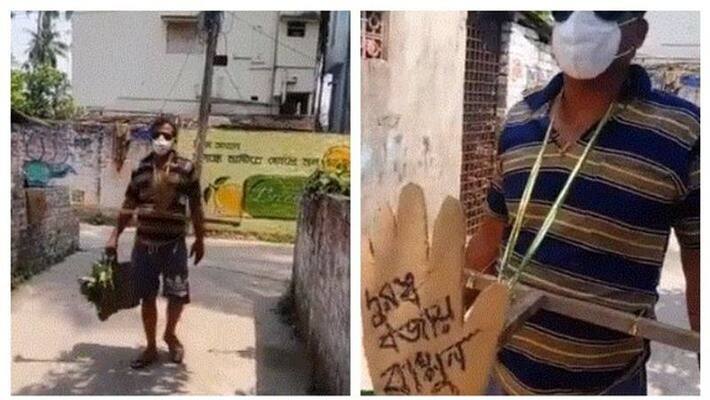 West Bengal: A lockdown has been imposed across India in a bid to curb the coronavirus spread. Industries, offices, educational sectors are closed. Countrymen have joined the fight against coronavirus. However, people have to go to the markets for essential goods and services. The government has repeatedly warned people to maintain social distancing. But, in most of the paces, it is hardly maintained. So, a man from West Bengal has come up with an innovative way to save oneself from the deadly virus in public places like markets.
A video of him, recorded while returning from the market, has gone viral. His face was covered with a mask. He was also wearing spectacles to protect his eyes. However, the most interesting thing was the wooden structure hanging over his neck, which was in the shape of a cross. Hand-shaped placards were attached to the respective arms of the cross, and the message on each placard was very clear: 'Maintain Social Distance'.
The man claimed that carved out the wooden structure on his own with an intention to save himself from the disease, and also to spread awarness in the society. He, said, "Neither the Central government, nor the state government can save us. The onus is on us to save ourselves. It would be very helpful if the administration could deliver essential goods at our doorstep. But, until then, this wooden structure can be an option to maintain social distance in public places.    
Last Updated Apr 7, 2020, 7:19 PM IST