Man's juggling performance with fire surprises netizens; watch video
A video of an artist performing with fire has stunned netizens.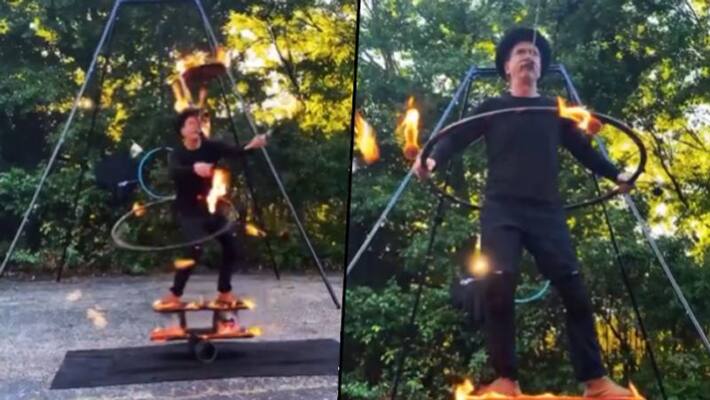 Social media is the best place to demonstrate one's unique talents. Because there are several chances that it will become an instant hit, one such video of an artist's juggling performance with fire has surprised netizens.
Instagram user Ripley's Believe It or Not! posted this video and gave details about the person and his hobbies in the caption. The footage shows artist Dr Dan Wasdahl from the USA performing a dangerous stunt. The video starts with Dr Dan Wasdahl arranging all his props needed for the trick and, towards the end, performs a mind-blogging fire stunt.
After being posted online, the video has gone crazy viral on digital media across many platforms. So far, the video has collected over 21,00 likes, and the figures are just increasing. The clip also received many comments from the people. Reacting to the video, a user wrote, "That's the best Dan I know!" Also, several users responded with emoticons to display their reactions. Watch the video.
A few days ago, a similar video of a woman juggling a football in high heels had stunned the netizens. The footage revealed Raquel Benetti juggling with a football while wearing pencil heels. Seun shared the clip on Twitter, asking ace footballers Cristiano Ronaldo and Lionel Messi to respond. The clip has earned over 471k views and 31k likes as of now.
Last Updated Oct 4, 2021, 6:52 PM IST