'Chinese enclave' in Sri Lanka is a security nightmare for India
Experts believe that the Sri Lankan government has granted permission due to its inability to repay the loans that they have taken from China.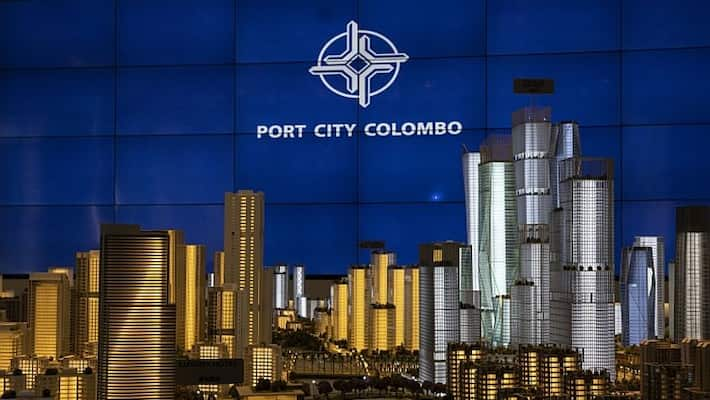 With Sri Lanka passing the controversial Colombo Port City Economic Commission Bill giving full authority of the port city to China, India is staring at a critical security issue considering the strategic location is just an arm's length away from its southern coast.
Even Opposition parties and civil society in Sri Lanka have raised concerns and described the Colombo port city as a 'Chinese enclave' as many of Sri Lankan laws would not be applicable there. 
However, the Gotayaba Rajapaksa administration has denied all concerns and said that the move would strengthen the prospects of foreign investment in the country.
Launched in 2014, the China-funded $15 billion Colombo Port City, being constructed on reclaimed land by Colombo's seafront, is spread across 269 hectares. The city will have its own set of rules on trade, investment and business. 
Experts believe that the Sri Lankan government has granted permission due to its inability to repay the loans that they have taken from China. 
Talking to Asianet Newsable, Centre for China Analysis and Strategy President Jayadeva Ranade said, "This is a clear sign of Sri Lankan indebtedness to China and its inability to pay or shall I say even the interest of the debt. This Colombo Port City project has been approved after a lot of discussions. But it shows how the countries that have signed on to Belt Road Initiative are being sucked deeper into debts. Two examples are Sri Lanka and Pakistan. So it shows that China will have increasing influence in Sri Lanka."
In 2017, Sri Lanka had leased a Port in Hambantota district to China for 99 years, which is around 250 km away from Colombo. Hambantota and Colombo are two of the many infrastructure projects that China has signed with Sri Lanka as part of the BRI. 
China's inroads in Sri Lanka
China expert Kamlesh Kumar told Asianet Newsable that political relations between the two neighbouring countries -- India and Sri Lanka -- have been experiencing subtle ups and downs since the Liberation Tigers of Tamil Eelam was decimated about 15 years ago. 
"The alternative dispensations, beginning with President Rajapakse, in Sri Lanka were either not conducive or reasonably friendly with India. One dispensation was favourable with New Delhi. Rajapaksa was of the view that India, in a way, had been supportive of LTTE activities in his country. In such scenario, China made inroads in Sri Lanka and India felt that its influence in Sri Lanka was being progressively diminished," Kumar said. 
Talking about former Sri Lankan President Mahinda Rajapaksa's leaning towards China, he said that the Sri Lankan president has increasingly invited Chinese naval ships to visit Sri Lankan ports. 
"In fact, the visit of Chinese submarines, particularly nuclear ones, certainly raised concerns in India." 
Talking about the Colombo Port city project, he said President Rajapaksa gave the contract to China but the M Sirisena administration put it on hold during his tenure. 
"The project was given a fresh go-ahead nod after President G Rajapaksa came into power." 
On debt-trap by China, echoing Ranade's views, Kumar said Sri Lanka found it hard to repay the loan and it had to subsequently grant a lease of the port to the Chinese company for 99 years, in lieu.
India had also given an offer to develop the area in collaboration with Japan, but the project could not materialise, ostensibly because of local opposition. However, the real cause may not be hard to guess, he added.
Last week, India had said it is keeping an eye on the development in Sri Lanka.
"I do not think we have formally raised this issue with the Sri Lankan government," a source in the government establishment had said last week, adding, "But our concerns on this matter are evident." 
"If it is a commercial venture only, then we do not have much to say. That's their choice. But if there are other elements, we will certainly have a look at it," the sources added.
Sri Lanka's Capital Markets Minister Ajith Cabraal projected that the initial construction of the port city would bring in an investment of $15 billion, creating over two lakh jobs. 
Sri Lanka, in recent years, has carried out various development projects with an estimated $8 billion in loans.
In South Asia, one after another countries have fallen prey to China's debt-trap strategy. Countries like Bangladesh, Pakistan, Nepal, the Maldives among others are struggling hard to repay the loans while the countries like Pakistan and Sri Lanka have ended up compromising on their strategic assets.
Last Updated May 31, 2021, 7:01 PM IST