Cabinet reshuffle: New Team Modi to be most diverse and youngest ever in India
Diversity will be a key aspect of the new-look Narendra Modi government, sources said.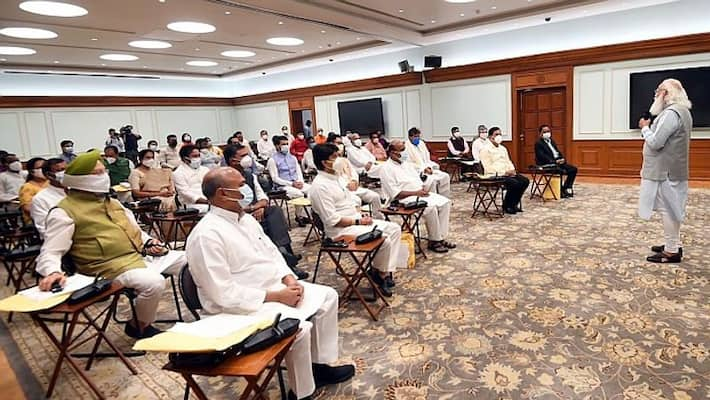 At 6 pm today, the first Cabinet reshuffle of the second term of the Narendra Modi government will be undertaken.
The Rashtrapati Bhavan has confirmed that the ceremony where 43 ministers will be taking the oath will take place this evening.
Sources said that 15 Cabinet ministers are taking oath today; 8 ministers are being promoted.
Asianet Newsable has learnt that seven existing Ministers of State will be elevated to Cabinet-level and 25 new members will join in the Council of Ministers, including 5 in the Cabinet.  
Sitting ministers resign ahead of reshuffle
Sources said that at least 11 sitting ministers have been dropped from the Cabinet. Law Minister Ravi Shankar Prasad and I&B Minister Prakash Javadekar have resigned from the Cabinet.
Earlier, some more ministers tendered their resignations. These include Union Health Minister Dr Harsh Vardhan, Education Minister Ramesh Pokhriyal and his deputy, MoS Sanjay Dhotre. Pokhriyal vacated his portfolio on health grounds.
Mos Health Ashwini Chaube has also tendered his resignation.
Pratap Chandra Sarangi, MoS for Animal Husbandry, Dairying and Fisheries and MSME, has resigned from the Union Cabinet.
Babul Supriyo took to Facebook to inform that he had been asked to resign from the Cabinet.
Another sitting minister to exit the Cabinet is Labour Minister Santosh Gangwar. 
Other ministers who have stepped down include Chemicals and Fertilisers Minister Sadananda Gowda, MoS Consumer Affairs, Food and Public Distribution Raosaheb Patil Danve and MoS Woman and Child Development Debasree Chaudhuri.
Diversity in new Team Modi
Diversity will be a key aspect of the new-look Narendra Modi government, sources said.
According to media reports, the new-look council of ministers will have 47 members from the backward classes, the highest since India's independence.
Five members from the minority community too will find representation in PM Modi's new team, sources said, adding that 11 women would find berths in the council of ministers.
Other reports said that five of the ministers in the restructured Cabinet would be from the Northeast.
The youngest Council of Ministers 
The new Council of Ministers will also be the youngest ever in India's history, with 14 members below the age of 50. 
Sources further said that the new ministers would have a higher educational qualification, with a number of them having doctorates, MBAs, post-graduates and professionals.
Informed sources said that there will be more women ministers and that special representation will be given to those who have administrative experience.
There are 28 slots available in the Union Cabinet. Out of 81 total berths, the Cabinet currently has 53 ministers. 
Last Updated Jul 7, 2021, 5:51 PM IST