95% Muslims in the country proud to be Indian: Pew survey
The Pew Research Centre survey found that 85% agreed with the statement that 'Indian people are not perfect, but Indian culture is superior to others.'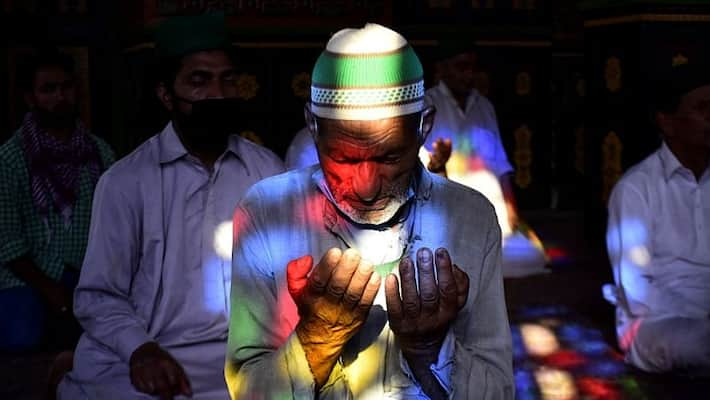 India's Muslim community, which is the second-largest religious group in the country, almost unanimously feels very proud to be Indian, with about 95% expressing great enthusiasm for the culture, a survey done by the Pew Research Centre has revealed.
The survey report observed that India's Muslim community has had a somewhat complicated historical relationship with the Hindu majority. The two communities and have lived together, next together for centuries, but their history is also marred by civil unrest, conflict and violence. 
The most recent incident being demonstrations and protests, not just by Muslims but by many other sections of the Indian diaspora, in parts of the capital and other major cities, over the government's new citizenship law, which allowed citizenship for immigrants unless they were Muslim. 
The survey found that 85% agreed with the statement that 'Indian people are not perfect, but Indian culture is superior to others.'
Comparatively, only 24% of Muslims said that their community faces 'a lot' of discrimination in the country, similar to the 21% of Hindus who say that Hindus face widespread discrimination in India. 
However, regionally the data changes -- the report shows that in the north, 40% say that they have personally faced religious discrimination in the last 12 months, which is much higher than in most other regions. The percentage comes down to 36% in the northeast, 19% in the south, 18% in the central region, 17% in the east and 15% in the west. 
At least 65% of Muslims, along with the same percentage of Hindus, see communal violence as a very big national problem; like Hindus, Muslims prefer to live religiously segregated lives, including marriage, friends and certain elements of public life. 
As noted earlier, 74% of Indian Muslims support having access to the existing system of Islamic courts in addition to secular courts, though the verdicts in the former are not legally binding. Other religious groups do not support this as much, with Hindus at 30%, Buddhists and Jains at 33%, Christians at 27% and the lowest rate of 25% among the Sikhs.
However, the desire for religious segregation does not exclude religious tolerance and diversity, a 59% majority of Muslims who favour separate courts say that religious diversity benefits India compared to the 50% of those who oppose separate religious courts. 
The discussion around separate Islamic courts is often highly debated. There are many who say that the rise of such courts undermines the Indian judiciary as it denotes separate laws for citizens meant to be equal. Others have argued that such courts and laws are unfair to women. 
On the other hand, Muslim scholars have defended the dar-ul-qaza, saying they expedite justice because family disputes that would otherwise clog India's courts can be handled separately, allowing the secular courts to focus their attention on other concerns. However, the rulings of these courts are not legally binding.
Last Updated Jul 3, 2021, 1:42 PM IST