Brij Bhushan denies sexual harassment claims; says won't quit as WFI President
In a startling revelation, Vinesh Phogat on Wednesday alleged that WFI President Brij Bhushan Sharan Singh had been sexually exploiting women wrestlers for many years, a charge vehemently rejected by the sports administrator and BJP MP.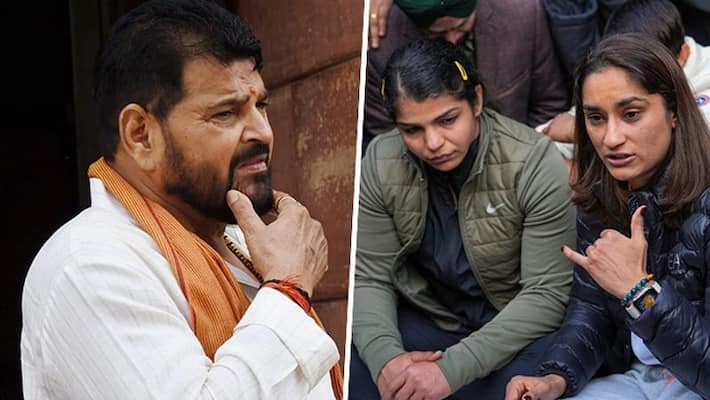 Under-fire Wrestling Federation of India (WFI) President Brij Bhushan Sharan Singh on Wednesday denied sexual harassment allegations levelled by Olympian Vinesh Phogat and refused to quit his post even as top Indian wrestlers protest against the BJP MP from Kaiserganj in Uttar Pradesh at Jantar Mantar in New Delhi.
"There is no truth in any of the allegations. Why should I quit? Even if one woman wrestler comes and proves the sexual harassment charge, I am ready to be hanged. There is an industrialist behind it (conspiracy)," said the 66-year-old WFI President.
"There can be an investigation by the CBI or police. There is no dictatorship. These same wrestlers had met me a week back and did not say anything," he added.
Also read: Wrestlers vs WFI President: 'Remove Brij Bhushan' chorus grows amid multiple sexual abuse claims
Earlier today, Vinesh, who has been at loggerheads with WFI since the Tokyo Olympic Games, claimed Singh had been sexually exploiting women wrestlers for many years. Vinesh also claimed that several coaches at the national camp in Lucknow have also exploited women wrestlers, adding that a few women at the camp approach wrestlers at the behest of the WFI President.
The 28-year-old clarified that she had never faced such exploitation but claimed that "one victim" was present at the 'dharna'. Vinesh also claimed that she had received death threats at the behest of the WFI President from officials close to him because she dared to draw Prime Minister Narendra Modi's attention to several issues plaguing Indian wrestling when she met him after the Tokyo Games.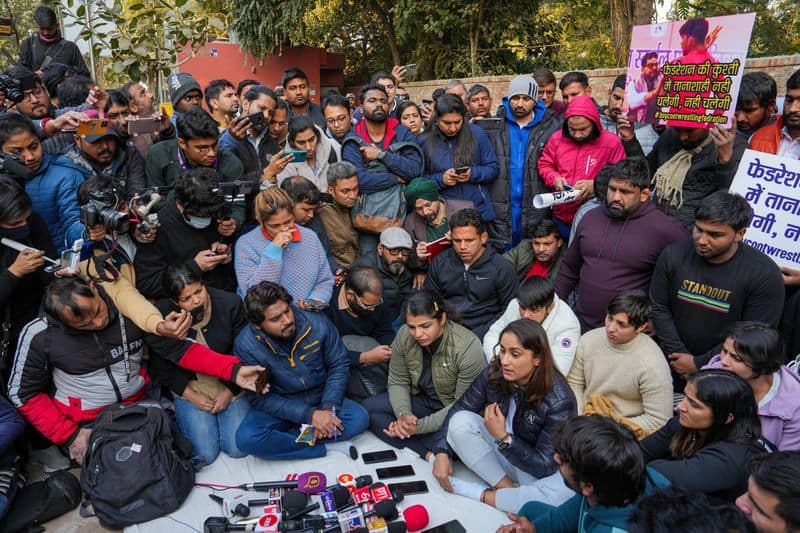 Responding to the allegation of death threats given to Vinesh on his behalf, Brij Bhushan said, "Why Vinesh did not talk to me or approached the police at that time? Why did she not meet the PM or the Sports Minister? Why is she saying this now."
The WFI boss indicated that the new policy and the rules they have introduced are perhaps causing a bit of discomfort to the wrestlers and that's why the protest. He said the wrestlers are being asked to compete in the National Championships and appear in trials for fair selection, and there is nothing wrong with it.
"Different states host Nationals and all want the country's best athletes to compete. None of these wrestlers has competed in the Nationals. We have made it clear that only those athletes who compete and win at the National Championship will be selected for the National camp," Singh said.
"The state of Haryana has been the pride of the country, but we want to take wrestling to other states also. So we stopped the arrangements of states sending multiple teams to the Nationals. States like Bihar, Jharkhand, Manipur, Nagaland and Mizoram are weak and we need to promote the game there. So we introduced National Open Championships apart from the regular Nationals and there also Haryana claimed 61 per cent of the medals," the WFI President added.
Also read: Wrestlers stage protest against WFI President's Brij Bhushan Sharan Singh 'dictatorship'
Rio Olympics medallist Sakshi Malik, world championship medallist Sarita Mor, Sangeeta Phogat, Anshu Malik, Sonam Malik, Satyawart Malik, Jitender Kinha, Amit Dhankar and CWG medallist Sumit Malik were among 30 wrestlers who assembled at the famous protest site. 
Brij Bhushan Sharan Singh was elected President of WFI for a third consecutive term in February 2019. In December 2021, the WFI President slapped an overage wrestler during the under-15 national championship when he insisted on competing after being disqualified.
(With inputs from PTI)
Last Updated Jan 18, 2023, 7:51 PM IST