US Open 2023: Medvedev's question to oldest Grand Slam champion Djokovic leaves crowd in splits - WATCH
Two years after suffering a stunning upset to Daniil Medvedev in the final at Flushing Meadows, Novak Djokovic defeated the 27-year-old 6-3, 7-6(5), 6-3 for his 24th major title, tying Margaret Court for the most Grand Slam singles trophies in tennis history.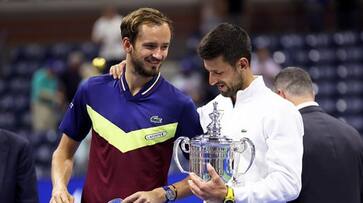 Two years after a shocking loss to Daniil Medvedev in the Flushing Meadows final, Serbian tennis star Novak Djokovic secured his 24th major title by defeating the 27-year-old Medvedev with a score of 6-3, 7-6(5), 6-3 inside Arthur Ashe Stadium. This victory tied Djokovic with Margaret Court for the most Grand Slam singles trophies in tennis history.
The win also made Djokovic the oldest Grand Slam men's singles champion and US Open 2023 runner-up Medvedev had a question that left the crowd in splits. "I want to ask, what are you still doing here?" quipped the Russian. "24. I feel like I have not a bad career and I have 20 titles, you have 24 Grand Slams. Wow," Medvedev said. "Congrats to you and your team. You guys are amazing," he added.
During the trophy ceremony, an emotional Djokovic expressed his sentiments, saying, "To make history of this sport is just something truly remarkable and special. Obviously in every possible way, in every possible meaning of the word special. It's hard to describe in words. I had the childhood dream when I was seven, eight. I wanted to become the best player in the world and win the Wimbledon trophy. That was the only thing I wanted."
Also read: 24 and counting: Djokovic explains 'Mamba Forever' tribute to Kobe Bryant after US Open 2023 win - WATCH
Despite signs of fatigue, Djokovic demonstrated his trademark ability to thrive under pressure. He won a grueling 104-minute second set, in which he saved a set point, ultimately securing victory.
Just two months prior, Djokovic had experienced a heartbreaking defeat in the Wimbledon final against Carlos Alcaraz. However, he responded to that loss with an intense determination, winning all 12 of his matches since. This marked the fourth time in his career that Djokovic has won three major titles in a single year (also achieved in 2011, 2015, and 2021).
Djokovic's win not only solidified his position in tennis history but also propelled him to the top of the Pepperstone ATP Rankings, marking his return to the No. 1 spot. He is now aiming to secure ATP Year-End No. 1 presented by Pepperstone for a record-extending eighth time.
The poignant moment of Djokovic's victory was when he received a hug from his daughter, Tara, courtside. He then climbed up to his box to embrace his team and his friend, actor Matthew McConaughey. Djokovic expressed his gratitude, stating, "I fell in love with tennis. No one has played tennis in my family before, so it was quite a choice I must say. But incredible resilience, just belief from my parents, from all the people around me all these years. My wife, my kids, my team, everyone that is there, this is your trophy as much as it is mine. This is your success. I love you."
Notably, this year's US Open men's singles final between Djokovic (36 years) and Medvedev (27) set a record as the oldest in the Open Era at 63 years and nine months, surpassing the previous record held by the 2022 championship clash between Pete Sampras (31) and Andre Agassi (32).
Last Updated Sep 11, 2023, 10:16 AM IST