24 and counting: Djokovic explains 'Mamba Forever' tribute to Kobe Bryant after US Open 2023 win - WATCH
Serbian ace Novak Djokovic pays emotional tribute to his 'friend' Kobe Bryant after lifting his historic 24th major title victory at the US Open 2023.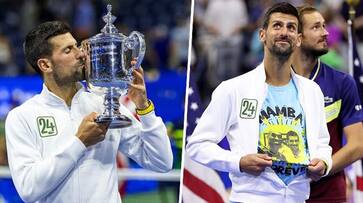 Novak Djokovic's 24th major title victory at the 2023 US Open held great emotional significance for him. This win allowed him to tie the all-time Grand Slam record, previously held solely by Margaret Court. In a touching tribute to his late mentor, friend, and NBA superstar Kobe Bryant, Djokovic debuted a custom t-shirt during the event with the words "Mamba Forever" boldly displayed across the chest.
During the trophy ceremony on Sunday, Djokovic revealed the personal significance of the t-shirt, saying, "I thought of creating this t-shirt about seven days ago, but I didn't share it with anyone until a few days ago when I asked my team to help me make it. Kobe was a close friend, and we often discussed the winner's mentality. When I was struggling with injury and working my way back to the top of the game, he was one of the people I relied on the most. He always provided counsel, advice, and support in the most friendly manner."
Djokovic went on to express the profound impact of Kobe's passing, stating, "Of course, what happened a few years ago with him and his daughter passing hurt me deeply. The number 24 was the jersey he wore when he became a legend of the Lakers and of world basketball. I thought it could be a meaningful and symbolic way to acknowledge him for all the incredible things he's done."
Djokovic's victory at the US Open was indeed historic. His straight-set win over Daniil Medvedev secured his fourth US Open title and marked his 24th major title overall. Furthermore, he achieved a unique milestone by becoming the first man to win three major titles in a single year four times, having previously accomplished this feat in 2011, 2015, 2021, and now in 2023.
Last Updated Sep 11, 2023, 9:52 AM IST