Australian Open 2023: Djokovic thrilled to be back on 'most special court' of his life with win against Baena
Former World No.1 Novak Djokovic started his bid for a record-extending 10th Australian Open crown with a 6-3, 6-4, 6-0 win over Roberto Carballes Baena on Rod Laver Arena.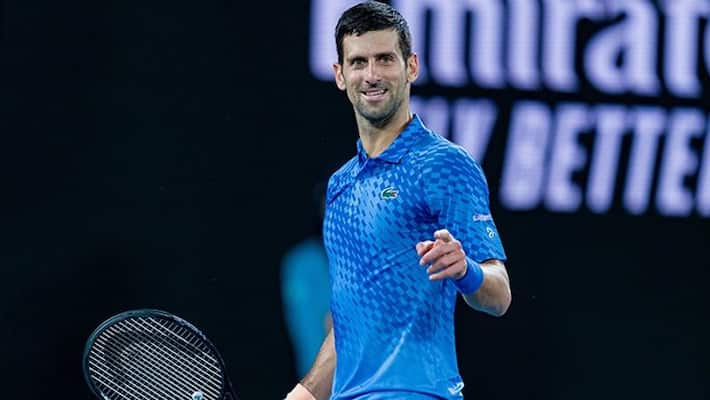 On Tuesday, Novak Djokovic got off to an explosive start in his quest for a record-breaking 10th Australian Open victory by easily defeating Roberto Carballes Baena at Rod Laver Arena.
Also read: Australian Open 2023: Andy Murray gets past Matteo Berrettini in a 5-set thriller; social media pleased
Although the World No. 75 Carballes Baena put in a valiant effort in his first encounter at Melbourne Park in two years, Djokovic maintained a high level throughout to claim a comfortable victory. 
The fourth seed won five of nine break opportunities to complete a two-hour, two-minute victory and secure a second-round matchup with qualifier Enzo Couacaud or Hugo Dellien.
"I really feel very happy that I'm back in Australia, back here on the court where I had the biggest success in my career," said Djokovic, who has now won 22 consecutive matches on Rod Laver Arena since 2019. 
"This court is the most special court in my life, and I couldn't ask for a better start to the tournament," the Serbian, who was deported from Australia ahead of last year's tournament due to his unvaccinated status, added.
"I guess the more you win on a certain court, the more confident and comfortable you feel every next time you step on it. That's probably one of the reasons. I've been fortunate to win a lot of matches on this court, particularly in the night sessions. If I had to choose one court and conditions, it would be night session on Rod Laver Arena, all night long," Djokovic stated.
Djokovic's winning run in Australia now stands at 35 games after the victory. If the 35-year-old wins the tournament, he will tie Rafael Nadal's record of 22 Grand Slam titles. Additionally, Djokovic will reclaim the top spot in the Pepperstone ATP Rankings for the first time since last June if he lifts the coveted trophy.
Djokovic had to fight through some early trouble on serve at 2-2, 0/40 in the first set because he injured his left hamstring during his run to victory at the Adelaide International 1 two weeks prior. However, he answered the pressure with panache, scoring 12 points in a row before sealing the victory in the first game. His rock-solid defence also stopped Carballes Baena's attempts to control rallies from the baseline.
Although the Spaniard continued to perform admirably, Djokovic sealed the solitary break in the second set with some nimble returning, and the Serbian showed no signs of hamstring pain. The 92-time tour-level champion increased his calm movement in the third set, striking with strength and accuracy through the court to seize total control and give his opponent little opportunity to reply.
"I'm very, very pleased with the way I played in the third set," said Djokovic, who hit 41 winners overall to Carballes Baena's 14.
"I didn't give him too much chance to breathe from the back of the court, and I served very well. [The] second set was kind of going up and down, but credit to him for fighting. He's a great guy, we train a lot [together] in Spain and it was his first match on Rod Laver so he deserves a big round of applause," he added.
Djokovic was happy to have entertained his family members who were watching, some of whom hadn't seen the Serbian play at Melbourne Park since he won his first Grand Slam title there when he was 20 years old. "My parents and my brother are here after 15 years," said Djokovic in his on-court interview. "They've were last here when I won in 2008, my first Slam, so hopefully they bring me luck once again."
Also read: Australian Open 2023: Needed this win, says Nadal after he begins title defence with win over Draper
Last Updated Jan 17, 2023, 8:33 PM IST