PKL 2022: Manjeet Dahiya, Jaideep star as Haryana Steelers dominate Tamil Thalaivas
PKL 2022 continued on Tuesday, as Haryana Steelers got the better of Tamil Thalaivas, thanks to extraordinary performances from Manjeet Dahiya and Jaideep.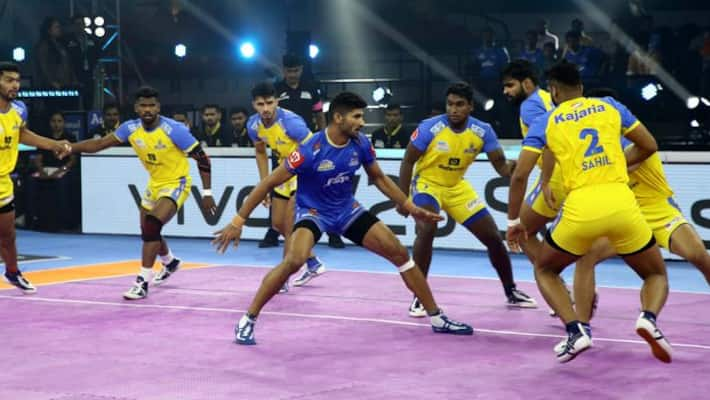 Haryana Steelers continued its winning run in Pro Kabaddi League (PKL) 2022, Season 9, picking up a significant triumph in the opening match of Tuesday evening, as it defeated Tamil Thalaivas 27-22 at the Shree Kanteerava Indoor Stadium in Bengaluru. For the Steelers, raider Manjeet Dahiya starred again, earning eight points. All-rounder Nitin Rawal, too, persisted with his excellent run for the Steelers, while Jaideep showcased his solid defensive work, making a SUPER 5. Manjeet began the game with a flourishing raid, opening the scoring for the Steelers straightaway.
However, Manjeet was caught by right corner Sagar a minute later, as the Thalaivas edged ahead with a lead. A defensive mistake from Monu Hooda led to the Thalaivas extending their charge, putting the Steelers on the backfoot. Manjeet presented his defensive talents in the eighth minute, tackling Ajinkya Panwar to narrow the gap to 4-5.
ALSO READ: Shocking! Kabaddi players served lunch in toilet during state-level U-17 event in Uttar Pradesh's Saharanpur
Thalaivas' Sahil Gulia went for a brisk tackle to get Manjeet out again. But Nitin Rawal stayed on top of his defensive responsibilities for the Steelers, ensuring his team remained in the contest. With a few minutes left on the clock in the opening half, Steelers inflicted an ALL-OUT on Thalaivas, taking control and heading into halftime with a 15-9 lead.
Trailing five points at the start of the second half, Thalaiavas began with quick points to close the gap. Narender made a raid point, following which Sagar dived down K Prapanjan, as the Thalaivas got the scoreline to 13-16. A minute later, Meetu acquired a SUPER RAID, and Jaideep captured Narender during a DO-OR-DIE raid as the Steelers fanned their authority again by six points.
ALSO READ: PKL Auction 2023 - Pawan Kumar Sehrawat fetches INR 2 crore; Guman Singh draws INR 1 crore
Despite the point drought, the Thalaivas maintained a defensive plan, allowing the Steelers to control the proceedings. At the halfway mark of the second half, Sagar attempted a roaring super tackle on Manjeet, pinning him down, as the Thalaivas showcased that they would keep fighting till the final whistle.
Another Super tackle by Visvanath V entitled Thalaivas to close down the gap again, but the Steelers, too, continued to fire in defence to maintain their lead. With a six-point charge in the game's final minutes, the Steelers strategically ran down the clock and harvested their second success of the season.
Last Updated Oct 11, 2022, 9:32 PM IST