El Clasico: Despite dip in performance, Real Madrid locker room confident of good show against Barcelona
Real Madrid will take on Barcelona in the Spanish Super Cup final on Sunday, and ahead of the El Clasico clash, reports have suggested that Los Blancos' locker room is not worried despite a slump in their performance in recent times.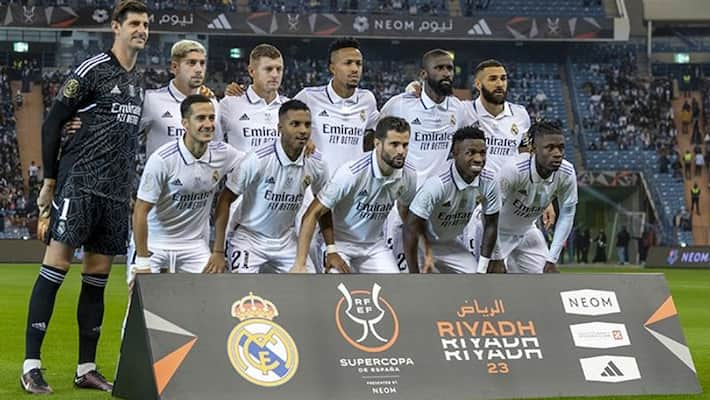 After the Qatar World Cup 2022, clubs football resumed, and defending Champions League winners Real Madrid have endured a rusty last few games, raising concerns among fans.
Real Valladolid in La Liga pushed the Merengues to the limit, and they then narrowly prevailed over a team from a lesser division in Cacereno in the Copa del Rey before suffering a defeat to Villarreal in the league.
Also read: Mbappe meets Messi in 1st PSG training since Argentina's World Cup win; here's what transpired
Then, in the Spanish Super Cup semifinals, Carlo Ancelotti's team had difficulty defeating Valencia and had to rely on penalties to book their berth in the finals against arch-rivals Barcelona on January 15 (January 16, 12:30 AM IST) at the King Fahd International Stadium in Riyadh.
Some criticism has been raised over the reigning champions of Spain and Europe due to the fall in performance standards in previous games.
However, according to MARCA, the Real Madrid locker room is reportedly not concerned about the current string of results and thinks it is just a "bad moment" that will pass.
The team's next match is the Spanish Super Cup final, where Los Blancos will square off against Barcelona in an El Clasico.
While Real Madrid boss Carlo Ancelotti has reportedly ordered his team to play with more intensity and focus during games, the absence of which has cost them during the games against Villarreal and Valencia, the locker room and coaches are not particularly concerned about the current state of affairs.
Also read: Ronaldo vs Messi in Saudi Arabia: Date, time, venue, tickets, where to watch in India and more
The Merengues also deal with multiple player ailments, another problem. However, they know that it is a necessary component of the game and are making preparations for the final on Sunday.
Although there may be some red flags, Real Madrid's locker room remains optimistic that things may improve with one significant victory.
Last Updated Jan 13, 2023, 4:16 PM IST