Neymar's girlfriend and family targeted in kidnap attempt during home invasion
In a startling incident, Brazilian football star Neymar's girlfriend, Bruna Biancardi, and her family found themselves at the center of a kidnap attempt during a home invasion in Cotia, Sao Paulo.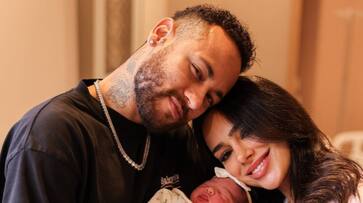 Football sensation Neymar had a harrowing experience on Tuesday when three criminals invaded and burglarized his girlfriend Bruna Biancardi's home in Cotia, Sao Paulo, as reported by the R7 newspaper. The culprits, two of whom were armed, were specifically targeting Biancardi and the couple's daughter, Mavie. Fortunately, neither Biancardi nor her daughter were present at home when the criminals struck.
However, Biancardi's parents were in the house during the break-in. Reports indicate that the couple was restrained by the criminals but emerged from the incident unharmed.
Biancardi later addressed the incident, assuring her friends, family, and followers that her parents were safe. She confirmed that she and her daughter no longer reside in the house and were not there during the attack.
"Thankfully, everything is fine with them. Material possessions can be replaced. The most important thing is that everyone is safe, and efforts are underway to locate those responsible," Biancardi shared on Instagram.
The swift response of observant neighbours, who noticed suspicious activity at the house, led to the involvement of the authorities. Law enforcement officers surrounded the premises and apprehended one of the suspects, while the other two managed to escape with valuable items, including watches, jewellery, and luxury handbags.
Also Read: Olivier Giroud sparks AC Milan's Champions League comeback with a win over PSG
Last Updated Nov 8, 2023, 6:14 PM IST