Human error shocker! Premier League grapples with credibility crisis amid yet another VAR farce
The article discusses the credibility crisis facing the Premier League due to VAR controversies and highlights the need for improved communication and transparency in decision-making.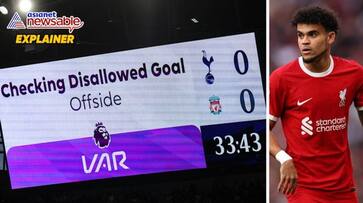 On Saturday evening, Howard Webb found himself in a familiar yet frustrating position, issuing an apology to Liverpool for the Luis Diaz decision after the Reds suffered a 1-2 defeat to Tottenham Hotspur. While Jurgen Klopp may question the efficacy of such apologies, failing to convey this sentiment would only worsen the situation. The core issue here is a breakdown in communication, presenting a genuine credibility crisis for the Premier League.
Termed an "image problem" by one involved figure, the situation has been deemed "unacceptable" by Liverpool. Beyond the debate about VAR, this debacle ultimately boils down to human error.
Digging into the details of the incident reveals a remarkable tale. If we accept PGMOL's explanation that this was a "momentary lapse in concentration," it becomes evident that the VAR team was uncertain about what they were reviewing. Darren England and Dan Cook believed they were assessing the legitimacy of a goal, contrary to the offside call made by referee Simon Hooper. This confusion led to a hasty 'check complete' decision that erroneously disallowed a legitimate goal.
What remains baffling is how play continued after this error, with those involved surely aware of the mistake. While IFAB rules dictate that play cannot be halted once resumed, questions arise about whether anyone was vigilant during this period. Shouldn't hasty shouts have been made when Tottenham prepared to take the ensuing free-kick?
Revelations that the VAR team, including England, Cook, and Michael Oliver, officiated a game in the UAE Pro League on Thursday evening raise concerns about fatigue contributing to the lapse in concentration.
Regardless of the cause, this incident has inflicted a credibility crisis, adding to broader controversies like the unresolved Financial Fair Play cases involving Manchester City and Everton. This situation is particularly damaging for the Premier League, which prides itself on integrity and its status as the world's most popular league.
Hostility toward VAR is intertwined with a perceived crisis in refereeing quality, widely acknowledged as the worst in years. This occurs in an era when officials face unprecedented scrutiny due to advanced camera technology.
Even Jurgen Klopp acknowledged the extreme pressure on officials, recognizing that errors are not deliberate. It is important to mention that the refereeing crisis extends to lower levels, with officials subjected to significant abuse. This situation has undoubtedly affected the pool of top-level talent, sparking a debate about better remuneration for referees, commensurate with their importance in the sport.
VAR was introduced as an aid for referees and a solution to these problems. However, it has inadvertently amplified the toxicity and pressure surrounding decision-making. This stems from a disconnect between the implied expectations and stated intentions of VAR, its actual application, and the communication surrounding it.
While VAR was designed to enhance accuracy to around 98 percent, the remaining 2 percent tends to involve high-profile errors, given the threshold for VAR intervention. The lack of communication about VAR decisions has fueled supporter suspicion and conspiracy theories, further damaging the credibility of referees.
The very existence of VAR has deepened this problem. While errors previously could be attributed to officials relying on their sight and instinct, VAR now provides access to more technological aid. Consequently, more fans perceive potential corruption, as evidenced on social media.
Enhanced communication is imperative, and Howard Webb has been striving to improve it. However, the response to Saturday's controversy exacerbated the situation. Liverpool was perplexed by the delayed statement from PGMOL and the subsequent explanation.
To address these issues, several logical steps can be taken. Removing VAR is not a feasible solution, as it extends beyond England to FIFA. Therefore, it is essential that incidents like this lead to improvements. Limiting additional work abroad and enhancing communication to eliminate ambiguity are key steps. Making all communication between the referee and VAR audible and accessible can promote transparency and understanding.
While disagreements about decisions may persist, clarity can foster acceptance of VAR. It is crucial to address these concerns promptly, given the number of questions being raised. Liverpool has called for "full transparency" in the review process.
This controversy compounds the credibility questions facing the Premier League, particularly amid ongoing investigations into Financial Fair Play breaches by Manchester City and Everton. Many stakeholders are irate about the situation, including broadcasters, whose product's credibility is at stake.
Trust is the cornerstone of the sport, and it is imperative to uphold it. In the meantime, Liverpool is exploring various options to address the situation, recognizing that a mere apology falls short of resolving the crisis.
Last Updated Oct 2, 2023, 5:55 PM IST