Will it be Ronaldo vs Messi in Saudi Arabia? Al-Nassr coach Rudi Garcia gives ultimate response
Lionel Messi's Paris Saint-Germain (PSG) is set to play a combined XI of Al-Nassr and Al-Hilal stars on January 19, and all eyes will be on whether Cristiano Ronaldo will make his debut in Saudi Arabia in the Riyadh Season Cup friendly clash.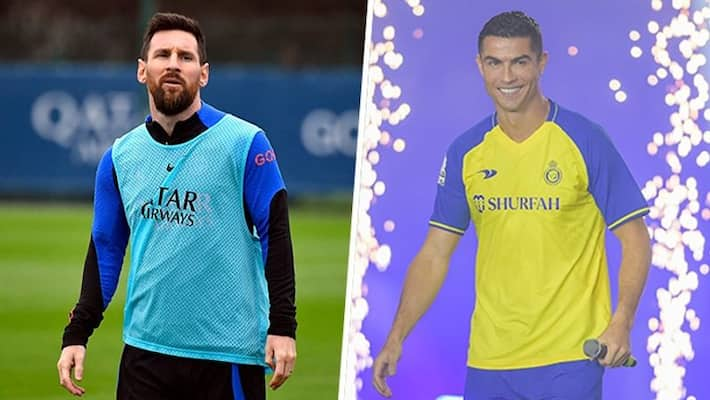 It's been a week since Cristiano Ronaldo was unveiled as an Al-Nassr player, yet the legendary striker has not made his highly-anticipated debut for the Saudi Arabian club. The Portuguese talisman, who is serving a pending 2-match FA ban over the infamous Everton incident last season, missed out on Al-Nassr's 2-0 win over Al-Ta'ee on Friday in the Saudi Pro League, and is set to miss the next game against Al-Shabab.
Also read: Last Messi vs Ronaldo clash? Argentina's Gallardo to coach Al-Nassr & Al-Hilal stars in friendly against PSG
However, Ronaldo fans could see the 37-year-old legend debut on Saudi Arabian soil in a friendly against Paris Saint-Germain (PSG) when arch-rival Lionel Messi and Co. play against a combined XI of Al-Nassr and Al-Hilal stars on January 19.
Al-Nassr coach Rudi Garcia, who has expressed his joy over Ronaldo's signing, confirmed that the five-time Ballon d'Or winner could be seen in action against his arch-rival Messi at the King Fahd International Stadium in the Saudi capital later this month.
"It (his debut) won't be with the Al Nassr jersey. It will be a mix between Al Hilal and Al Nassr," Garcia was quoted as saying by L'Equipe.
"As the coach of Al Nassr, I cannot be happy with this match. For development, to see PSG, to see the great Parisian players, indeed it is a good thing. But we have a championship game three days later," the Frenchman added.
"In terms of scheduling, it could have been better thought out. But it's not a big deal... We are in the lead, we are happy. It is a difficult championship to win, but we intend to do it," Garcia remarked.
Also read: Inside 'King' Ronaldo's first residence in Saudi Arabia: Cost of Al-Nassr star's lavish suite revealed
Garcia compared Ronaldo's move to Saudi Arabia to Pele's move to the New York Cosmos, bringing attention to the underdog Saudi team that has gained more than 10 million new Instagram followers since Ronaldo's signing last month.
After a turbulent two months in which his Manchester United contract was ended and Portugal lost in the World Cup quarterfinals, the former Lille and Olympique Lyonnais coach expressed his wish that Ronaldo rediscovers the joy of playing football.
"In recent months, between Manchester United, the national team and also at a private level, he has not had easy moments," Garcia said. "If he finds the pleasure of playing again, it will be a good goal to achieve."
Meanwhile, former River Plate, Monaco and PSG coach, Marcelo Gallardo will lead the Saudi Riyadh Season select team, which could see Ronaldo feature in the playing XI. 
In a video shared by the Chairman of the Riyadh Season Turki Al-Sheikh last week, the Argentinian coach said, "Hi, I'm Marcelo Gallardo, and I want to tell you that on January 19, I'm going to lead the Riyadh Season Cup, which will be made up of players from Al Hilal and Al Nassr versus Paris Saint Germain. See you there soon."
Also read: Ronaldo effect in Saudi Arabia: Pitch invaders imitate 'Siuuu' celebration during Al-Ittihad vs Al-Hilal game
Last Updated Jan 9, 2023, 3:49 PM IST