After booing, 'cheater' chants, Cheteshwar Pujara gives batting tips to Karnataka batsman D Nischal
'I had decided to approach him (Cheteshwar Pujara) after the game. Once the game finished I went to him. It was a fantastic feeling, as we all know whenever a fan meets his idol. It was a superb feeling watching him bat and I want to learn a lot from him," the 24-year-old Nischal told Newsable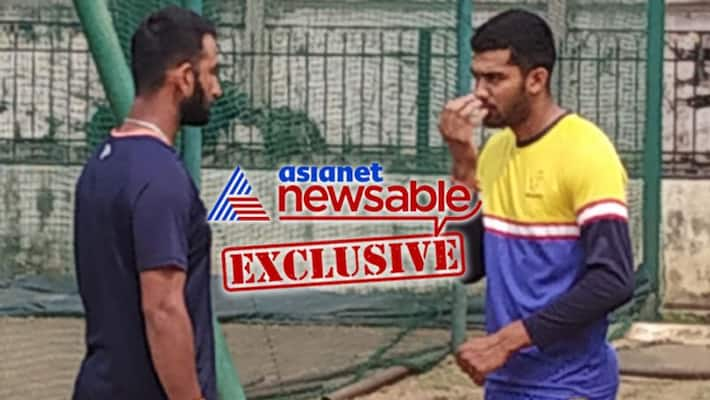 Bengaluru: The M Chinnaswamy Stadium in Bengaluru is a "special ground" for Cheteshwar Pujara as it was here that he made his Test debut against Australia in 2010. But, eight years later, at the same venue, he was booed and called a "cheater" by Karnataka fans during the Ranji Trophy semi-final on Sunday (January 27).
But, that did not stop him from helping a Karnataka youngster with his game.
Pujara, with a gritty knock of 131 not out, took Saurashtra to the Ranji Trophy final as they defeated the hosts by five wickets on Monday (January 28), on the fifth and final day.
The home fans were furious with Pujara as he refused to walk in the second innings after nicking a R Vinay Kumar delivery to the wicketkeeper Sharath Srinivas. Umpire Saiyed Khalid failed to spot the edge and said not out. The batsman was on 34 at the time. This triggered a massive outrage on social media.
After batting for 449 minutes, Pujara could have easily relaxed and joined his teammates in celebrations. But, when Karnataka opener Dega Nischal approached him to pick his brain on batting technique, India's No 3 Test batsman, who was Man-of-the-series in the historic Australia Test series recently, readily obliged.
Also read: Exclusive interview with Mayank Agarwal
"I had decided to approach him after the game. Once the game finished I went to him. It was a fantastic feeling, as we all know whenever a fan meets his idol. It was a superb feeling watching him bat and I want to learn a lot from him," the 24-year-old Nischal told Newsable in an exclusive chat about his meeting with Pujara at Chinnaswamy Stadium's 'B' ground.
The interaction lasted about 10 minutes and the right-hander said he learnt a lot from Pujara.
"It was a fantastic discussion. I am a big fan of Pujara. I have modelled my batting style around him. He is my favourite cricketer. Obviously when you are playing against him, it is a big honour and I wanted to speak to him regarding my game. It was a fantastic discussion about batting and he taught me a lot of things," he revealed.
Nischal did not play the Ranji Trophy semi-final against Saurashtra and watched the match from the dressing room.
"
When asked about what was the main topic of discussion, Nischal said he focused on the defence technique. The youngster hailed Pujara as "best defence batsman in the world".
"The most important thing and the only thing which I discussed was the batting defence. We have similar batting styles. Defence is the most important weapon. Pujara is the best defence batsman in the world. He plays very close to the body, the bat won't go ahead. So, I asked him about that. He told that it takes years of practice and playing a lot of balls. And, also he told me that it comes with playing with soft hands," he explained.
"From the past five to six years, I have been watching him and he is my favourite since the time he established himself (as a Test batsman in the Indian team)," he added.
With Pujara taking the game away from Karnataka, Nischal was hoping that his idol would get out early but that did not happen.
"On a personal note, I wanted him to get out," he said.
On the Ranji Trophy season which ended in Karnataka's exit in the last-four stage, Nischal felt he could have done better as a batsman, especially in the quarter-final against Rajasthan where he had low scores of 6 and 1.
In nine matches in the 2018-19 season, Nischal scored 620 runs from 18 innings at an average of 36.47. He was Karnataka's second highest scorer after KV Siddharth (728).
"It has been a good season for me. I have got three hundreds and three fifties. But, I felt I could have been more consistent, especially in the quarter-final game against Rajasthan. I should have stepped up. I missed out on a big score. I got runs in the entire league stage but I should have got runs in the knockouts," he signed off.
Last Updated Jan 28, 2019, 2:55 PM IST