Bengaluru boy Mayank Agarwal reveals how plan against Nathan Lyon worked in Australia
After returning home, Karnataka's young opener Mayank Agarwal, in an exclusive interview with Newsable, shared his experience of the Australian tour.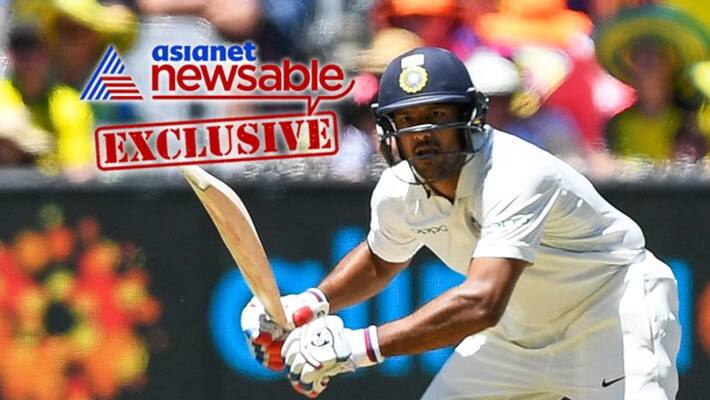 Bengaluru: Karnataka's young opener Mayank Agarwal has revealed how India batting coach Sanjay Bangar helped him to tackle Australian off-spinner Nathan Lyon during the recently concluded historic Test series Down Under.
On January 7, India ended a long 71-year wait for their maiden Test rubber triumph, at the Sydney Cricket Ground (SCG). Agarwal played a major part in two Tests, in Melbourne and Sydney with two half centuries.
Agarwal was called up to the Indian squad after the two Tests due to Prithvi Shaw's injury. He made the most of the chances, showing no nerves. He hit 76 on debut at the Melbourne Cricket Ground (MCG) and followed that with scores of 42 and 77 in Sydney.
After returning home, Agarwal, in an exclusive interview with Newsable, shared his experience of the Australian tour.
Excerpts
Newsable: Mayank, first of all, congratulations on the historic Test series win in Australia. Could you tell us how was the feeling in Sydney when India ended a 71-year wait and you got to lift the Border-Gavaskar Trophy?
Mayank Agarwal: To be honest, it is undescribable. What I felt when India won in Sydney is undescribable. Words cannot describe my feeling. The feeling of being the first subcontinent team to win a Test series in Australia was simply amazing.
Newsable: You were called up to the squad in the middle of the series as a replacement for the injured Prithvi Shaw. How did you mentally prepare yourself for the big series?
Agarwal: I stuck to a plan. When I reached, the team welcomed me. It was a very warm welcome. Everyone gave me confidence and they were all backing me. Also, when we were in the nets preparing for the (Melbourne) Test, (batting coach) Sanjay (Bangar) sir spoke to me. Earlier, (head coach) Ravi (Shastri) sir had spoken to me. We had made a plan as to how to go about it and we went there and executed it.
Newsable: You attacked off-spinner Nathan Lyon. Did you go in with a mindset to attack him considering he had major success against India in the previous Tests?
Agarwal: Sanjay (Bangar) sir and I had a long chat about it. He told what Lyon would do and what his strengths are. We just sat down before the match and discussed on how to go about tackling the situation. I am glad that our plan worked.
Newsable: As an opening batsman, could you tell us what is the difference between facing the SG Test ball in India, and Kookaburra ball in Australia?
Agarwal: The Kookaburra ball's seam is nice and hard. The wickets in Australia have a lot more bounce compared to India. The SG ball reverses a lot more as compared to the Kookaburra. Obviously, in Australia, the new ball is very crucial. The wickets are different. We have to go there and adapt to the conditions and we had prepared for that.
Newsable: How was the feeling of opening the batting for India in Sydney with your best friend and city-mate KL Rahul?
Agarwal: It is a friendship goal. It was a dream-come-true for us. We have played a lot of cricket together from the Under-13s and we are very good friends on and off the field. When we were 13 and 15, we had opened the batting for our teams. And even in the Ranji Trophy it was a great honour and pleasure to open together. We were dreaming that we could one day open the innings together for India. And that dream came true. It was fantastic.
Newsable: Having done well in Tests and with the World Cup being played this year, what are your plans for making it to the limited-overs teams?
Agarwal: I just want to take it game by game. We have a lot of matches left. I want to stick to my process and keep working hard, keep putting in the performances. And like as I have always said, what has to be, will be.
Newsable: How did the Indian team celebrate after the series win in Sydney?
Agarwal: I can't tell this. We had a get together. We really enjoyed our success.
Newsable: Personally, which was the best on-field moment apart from winning the series?
Agarwal: Winning the series has to be the top-most feeling. Doing something that no subcontinent team had done in Australia. That was the biggest feeling for me.
Newsable: Who are the coaches and mentors who have played a big part in your success?
Agarwal: I just want to thank everyone who have played a big part in my career so far, especially (personal coach) RX sir (Murali) for helping me throughout my game, Rahul (Dravid sir, Sanjay Bangar sir and Ravi (Shastri) sir. I also want to thank my team, who gave me a warm welcome in Australia, which boosted my confidence.
Last Updated Jan 11, 2019, 9:43 AM IST