Asian Games 2023: India secures Gold in Women's 25m pistol team event in Hangzhou
In a remarkable showcase of precision and skill at the Asian Games 2023, India's women's 25m pistol shooting team, led by the outstanding trio of Manu Bhaker, Esha Singh, and Rhythm Sangwan, clinched the gold medal.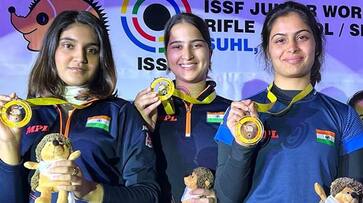 In a remarkable display of marksmanship at the Asian Games 2023 held in Hangzhou, China, India achieved a resounding victory in the women's 25m pistol team event, securing a coveted gold medal. The triumphant Indian team, comprising the skilled shooters Manu Bhaker, Esha Singh, and Rhythm Sangwan, emerged as the undisputed champions in this prestigious competition.
The Indian contingent's remarkable feat was underscored by their impressive total score of 1759 points. This remarkable score not only secured them the gold medal but also placed them ahead of their closest competitors. China, their closest rival in the event, managed to secure the silver medal with a score of 1756 points, falling just three points short of India's outstanding performance. Meanwhile, the Republic of Korea claimed the bronze medal with a commendable total score of 1742 points.
The path to this golden victory was paved by Manu Bhaker's exceptional performance during the qualification round. She displayed unmatched precision and skill, shooting an impressive score of 590, which placed her at the top of the qualification leaderboard. Esha Singh, another stalwart of the Indian shooting team, secured the fifth position with an admirable score of 586. Rhythm Sangwan, although finishing seventh with a score of 583, demonstrated remarkable shooting prowess. Unfortunately, Rhythm narrowly missed out on the final round, as the competition rules permitted only two shooters per country to compete in the finals.
The Asian Games have proven to be a fertile ground for India's talented athletes, and this victory added to India's impressive medal tally in the ongoing event. As of now, India has clinched a total of 16 medals, further cementing its status as a powerhouse in the sporting arena. This haul includes four coveted gold medals, five silver medals, and seven bronze medals, showcasing the country's depth of talent and commitment to excellence on the international stage. India's athletes continue to make their nation proud, leaving an indelible mark in the annals of Asian Games history with their outstanding achievements.
Also Read: Asian Games 2023: India's schedule and event timings for September 27
Last Updated Sep 27, 2023, 9:45 AM IST