Asian Games 2023: Deepak Punia outplayed by idol Hasan Yazdani; settles for silver medal in men's 86kg
Indian wrestler Deepak Punia wins silver in the men's 86kg category at the Asian Games 2023, concluding India's wrestling campaign with six medals but no gold.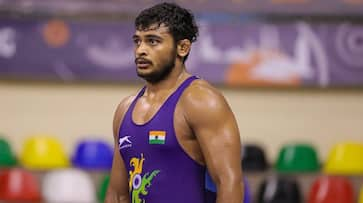 Indian wrestler Deepak Punia secured a silver medal in the men's 86kg category at the Asian Games 2023 in Hangzhou, China, where he faced the formidable Iranian wrestler Hasan Yazdani on Saturday. This marked the end of India's wrestling campaign at the tournament, resulting in six medals but no gold.
Deepak Punia found himself competing against his childhood idol, Hasan Yazdani, who is a two-time Olympic medalist and eight-time World Championship medalist. In the 2019 World Championships, Deepak had reached the final but did not wrestle against Yazdani due to a foot injury, settling for a silver medal.
In the final, Deepak Punia was unable to score against Hasan Yazdani, who took a commanding 8-0 lead in the first period. Yazdani's dominance continued into the second period, resulting in an early conclusion to the bout as he defended his title.
India's wrestling campaign at the Asian Games yielded six medals, with Deepak Punia securing silver. Other Indian medalists included Sunil Kumar (87kg), Antim Panghal (53kg), Sonam Malik (62kg), Aman Sehrawat (57kg), and Kiran Bishnoi (76kg). Notably, India did not win a gold medal in this edition of the Asian Games.
While Deepak Punia performed well in his bouts leading to the final, other Indian wrestlers like Yash Tunir (74kg), Vicky (97kg), and Sumit Malik (125kg) did not reach the medal rounds. The most significant disappointment came with Bajrang Punia's defeat on the previous day.
In the 2018 Asian Games, India had won three medals, including two gold medals through Bajrang Punia and Vinesh Phogat.
In the men's 86kg category, Deepak Punia faced some challenges but improved with each bout. He secured a close 3-2 win over Bahrain's Magomed Sharipov in the qualification round, followed by a victory by technical superiority against Indonesia's Randa Riandesta. He then outscored Japan's Shirai Shota 7-3 in the quarterfinals. In the semifinals, Deepak faced a tough opponent in Uzbekistan's Javrail Shapiev but prevailed with a 4-3 victory.
Yash Tunir faced a defeat by technical superiority against Tajikistan's Magomet Evloev after winning his pre-quarterfinal bout against Cambodia's Chheang Chhoeun. Vicky's journey in the competition came to an end with a defeat against Kazakhstan's Alisher Yergali, while Sumit Malik was ousted when he lost by technical superiority to Kyrgyzstan's Aiaal Lazarev.
Last Updated Oct 7, 2023, 4:20 PM IST