Vrischikam 1: The transcendental month to walk on path of devotion begins today in Kerala; Read
According to the traditional Malayalam calendar, Mandala Kalam falls on the first day of the Vrischikam month and finishes on the eleventh day of the Dhanu month. This marks the start of the pilgrimage to Sabarimala.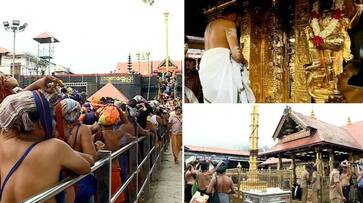 Today marks the start of the transcendental month of Vrischikam. On the first day of the Malayalam month of Vrischikam, the 41-day "vritha" (voluntary act of continence) in connection with the Sabarimala Mandala season begins. Since this is regarded as an auspicious month, an enormous number of devotees come to see Lord Ayyappa with pure devotion and spirituality. The entire purpose of the pilgrimage is to receive a darshan from the celibate Lord Ayyappa at Sabarimala in Kerala's Pathanamthitta district.
Also read: Mandala Masam 2023: Know important dates, history, significance, rituals and more
The first day of Malayalam's Vrischikam month marks the beginning of the pilgrimage to Sabarimala, which concludes on the eleventh day of Dhanu month. Mandala kalam (season) refers to this 41-day period of pilgrimage.
The temple is perched on a hill and encircled by thick forests and mountains. Poongavanam is the name of the thick forest that surrounds the temple and is a part of the Periyar Tiger Reserve.
It is highly forbidden for the devotees who will travel to Sabarimala to consume meat, fish, wine, tobacco, have sex, have a haircut, shave, use foul language, be unpleasant, swear, etc. They should adorn a Rudraksha mala and only wear clothing in shades of black or saffron. Before beginning their trek to the major temple, they are required to visit a nearby temple each day. They ought to follow "Brahmacharya" (self-control of all pleasures sensuous). During the entire time, the temple is open. The management of the temple imposes religious prohibitions on women between the ages of 10 and 50. The temple's custom of honouring the deity's celibacy serves as the foundation for this.
One of the most popular pilgrimage sites in the world is the holy shrine of Sabarimala. The temple is open to all people, regardless of their caste, religion, or faith.
Last Updated Nov 17, 2023, 8:06 AM IST