RSS strengthening base in Kerala, has more shakhas in Kerala than in Gujarat
The rise in number of pranths started after 2010-11, much before Modi became Prime Minister: Kumar
RSS is planning to expand its presence in Kerala by attracting more youth
LDF government had warned to take strong action against RSS if they continue to use temple premises to train their men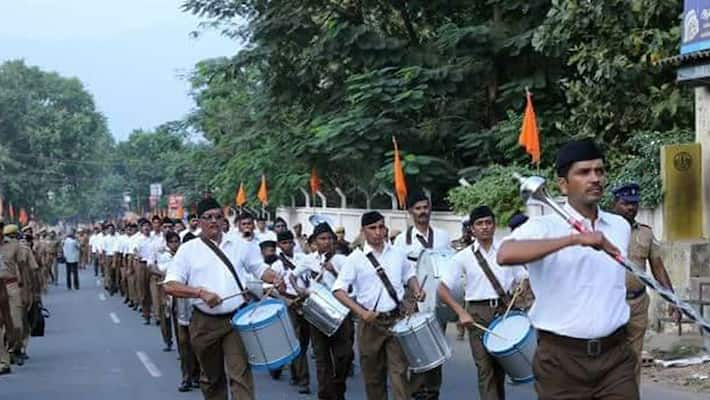 Kerala, which is often considered as the stronghold of Left parties has the highest number of RSS shakhas, and the number is rising, a Sangh office bearer has claimed. 
 
The outfit also declared that it registered highest growth between March 2015 to 2016. 
 
Rashtriya Swayamsevak Sangh (RSS) holds over 5, 000 shakhas per day among its pranths (regions) and even Gujarat has only around 1, 000 shakhas though the state is considered as the bastion of both RSS and Bharatiya Janata Party (BJP), Akhil Bharatiya Saha Prachar Pramukh Nanda Kumar said. 
 
"In the last few years Kerala has become a hotbed of RSS and left is losing its ground in the state. More and more people are joining RSS and this is one of the reasons why BJP and RSS workers are often attacked," he said. 
 
Over 5, 000 shakhas are there in the state. Meanwhile, Uttar Pradesh has 8, 000 shakhas, but the RSS has divided the state into six pranths considering operational convenience. Maharashtra, which has four pranths has 4, 000 shakhas. 
 
Kumar also claimed that the rise in pranths started after 2010-2011, much before Narendra Modi came to power. The organisation plans to expand its presence in the state by attracting more youth, he said. 
 
Meanwhile, the left government in Kerala is opposing the move of RSS to use places of worship to train their men and store arms. The government even warned to take strong action against the organisation if they continue using temple premises to train their men. "RSS move will destroy secular characteristics of Kerala society and peaceful co-existence of people," Temple Affairs Minister Kadakampally Surendran had said. 
Last Updated Mar 31, 2018, 6:35 PM IST