100% reservation for Kannadigas in private sector is anti-India
Karnataka labour department will give 100 per cent horizontal reservation for Kannadigas in all private industries
If the industries don't follow these guidelines, the government will cancel all concessions given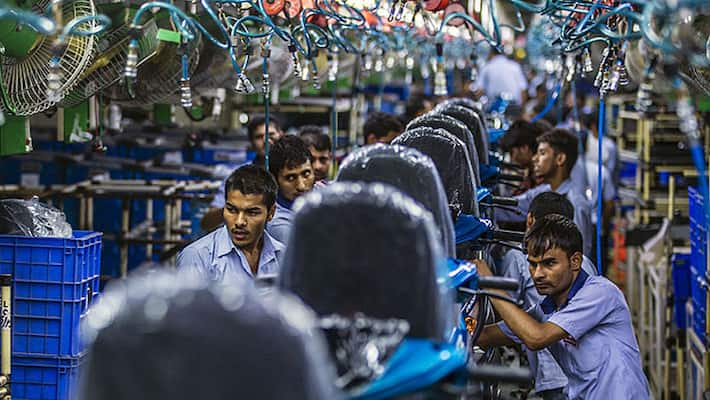 Earlier we had mentioned how majority reservation will be provided for Kannadigas in Group C and Group D jobs (blue collar and unskilled labour) in the private sector.
Now, according to news reports, the Karnataka labour department will give 100 per cent horizontal reservation for Kannadigas in all private industries, not even the 70 per cent they were previously considering. They will be implementing it using scare tactics i.e if the industries don't follow these guidelines, the government will cancel all concessions given to them. 
Karnataka labour minister Santosh Lad has been quoted by TOI as saying that the labour department may adopt a lenient approach if the companies employed Kannadigas to 70 per cent of all white and blue collar jobs or 100 per cent of blue-collar jobs alone. "We're not saying they have to pick a Kannadiga if there is none for the job. But we're insisting that private industries employ Kannadigas as the first option," he said.
Reservation as we know has proved to be detrimental to the progress of India. While any sort of reservation was initially meant to uplift the backward and marginalised classes in the India. Now, increasingly states are seeking a lion's share and trying to worm in other clauses. It was okay until it extended to SC and OBC as every other state in the country is entitled to do so, but now state-based 100 per cent local reservation would mean destroying the labour force. If we start thinking in silos and states, we should remove certain words from our constitution to reflect it as well. 
READ: Kannadiga private sector reservation policy to skip IT-BT workers
The Indian constitution does not lay down any rules regarding reservation of jobs in the private sector, but the Karnataka government seeks to overlook that and amend its Karnataka Industrial Employment (Standing Orders) Rules of 1961 to justify their means. While this entirely unconstitutional because it impinges on the right of a private company to recruit its workers within the normal accepted standards.
The private sector in India chiefly caters to entire agriculture and allied activities, plantation, mining, internal trade both wholesale and retail, foreign trade, road freight traffic etc. And in this sector at least, the blue-collared workers are made up of migrant population from other states. Internal migrants do most of the cheap labour because they are not afraid to take up jobs discarded by the locals and in some cases these migrants are more skilled than the regional people in doing the job.
While migrants are considered as a negative burden on the state, employers prefer them because they are cheap, are willing to work, less prone to creating unions and they don't have to give them all benefits and they can be shunted across the country as when needed. With the local population you have a lot of rules and rigid practices to follow. The skill sets of the local youth need to be in tune with the employing private sector and employing them willy-nilly will mean harming the workforce.The private sector is entitled to employ a workforce that suits its purposes of profitability and production, any compulsion would mean pure dictatorship. 
Once reservation steps in the individual thinks that he is entitled to the particular post come what may. He/she knows it is easily available to them and so there will be no working towards it like the rest of the general class or migrants do.

 
The government may be arguing that it should be a give and take process wherein the private sector gives back to the state where they are drawing their resources from, but the government itself needs to improve their workers skills to make this practice beneficial instead of a compulsion. Lack of jobs is the main reason for the state's youth and labour population's unemployment and by just completely reserving seats for them means that the Karnataka state government is trying to find an easy  solution and also fulfil their political agenda hidden beneath it - building a vote bank. Are we trying to build nations within a nation?
What if the reserved category locals are not able to provide desired results? Why should a private firm bear the brunt of hiring incapable staff? If this draft is passed by the law then it will become a dangerous precedent for other states like Maharashtra and Bihar who are already complaining that outsiders are eating up local jobs. Then slowly questions will arise on freedom of movement within the country in search of jobs, and settlement will also come into the picture leading to more chaos and this is not a scenario India can tolerate at this time.
Once reservation steps in the individual thinks that he is entitled to the particular post come what may. He/she knows it is easily available to them and so there will be no working towards it like the rest of the general class or migrants do. A sense of entitlement gains ground and once this is encroached upon, it will lead to tussles between the two sections.
A middle path should be found to the existing local unemployment. Instead of complete reservations partial or merit-based jobs can be looked at. This way both the groups - the employers and employees will be satisfied. It will further spur the local youth to work harder to stay within their states.
Last Updated Mar 31, 2018, 6:47 PM IST