Keralite stuck on Sharjah terrace for the past 9 months
Sajeev Rajan from Kerala, has been living on the terrace of a Sharjah building for the past 9 months
His employer is not giving his passport and he has no money to come back to India to his family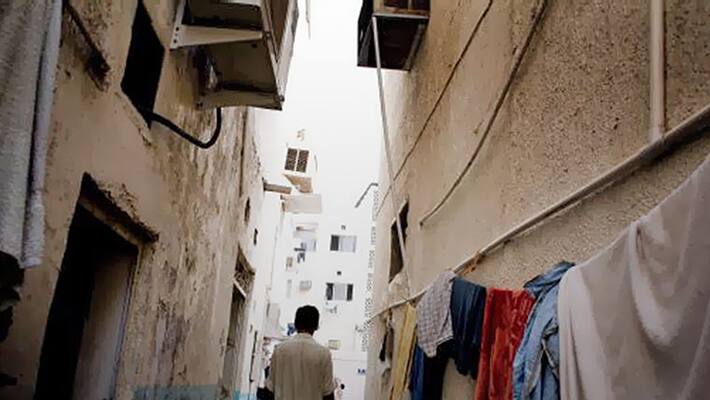 Sharjah has scenic beauty, it is the only Emirati city that has a coastline on both the Arabian Gulf and Gulf of Oman. It is an art and cultural hub and also the dream destination of many migrant workers, especially down south.
When 45-year-old Kollam resident Sajeev Rajan came to Sharjah, he probably did not know of all this. All he had in his head were dreams – dreams of earning in dirhams, a good job opportunity, a better quality of life for his family and a whole lot of other things. He had a handicap of having one-eye, yet, this did not deter him. He had a wife, two children and his ageing parents to take care of, his comfort could come last.
However, unfortunately, in his case, the Sharjah life was a hard bargain. What he did not expect was that one day he would be forced to brave the harsh UAE summer, homeless, penniless and remain stuck in a country he cannot call his own.
Now, it has been close to 9 months, and Sajeev is living the open-air life. He lives with all his possessions on the terrace of a six-storey building in Ajman, sleeps on shabby mattress and survives on the generosity of his former co-workers and neighbourhood shop owners since he does not have the money to sustain himself in any way.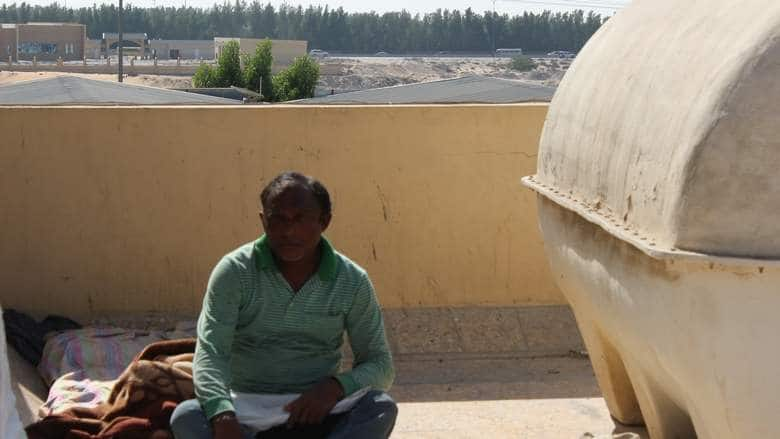 Sajeev Rajan from Kollam, Kerala has been living on the terrace of a Sharjah building for the past 9 months. (Image source:
Khaleej Times)
On March 11, 2016, Sajeev, an electrician by profession, found that his contract with his Sharjah-based company had ended. He was earning Dh900 (₹16,697) per month and that was certainly not what he was looking for. He had been working with the firm for the past two years and this was not a life he had dreamt of.
Everyone who goes to the Gulf from India is fed a staple diet of stories before they go. One set shows how the Indians live in deplorable conditions there but there is also the other set of rags-to riches stories. Sajeev must also have heard his share, but the lure of a better future always trumps the odds.
Sajeev, in an interview to Khaleej Times, said his employer was not ready to relieve him from work and send him back home after clearing his gratuity and leave salary. That was the beginning of his nightmare.
"When my boss refused to settle my dues and release my passport, I went to the Sharjah immigration department with a complaint. Afterwards, my boss has been trying to delay the process. He is not abiding by the court order. He also filed an absconding case against me even though I had not absconded."
To add to his miseries, his employer, also an Indian from Punjab, promised to give his passport in front of the officials but once he left their office, he refused to do so. Once his contract ended Sajeev was forced to vacate his company-given accommodation in Ajman leaving him homeless.
"Please send me home or I will die here ... there is no money for food or room," he pleads.
Sajeev's story echoes the plight of many migrant workers who are stuck in the country, once their contract ends or their employers relieve them from work without returning their lifeline –the passport . "Even when the temperature reached nearly 50 degree Celcius I had to stay here. I do not have money for food, but a restaurant owner gives me food. One person gives me Dh3 per day for breakfast.
According to Sajeev, he has approached the labour court "several times", the Indian Consulate, community associations and others "but nobody could help me".
Indian Consulate officials have confirmed that they are aware of Sajeev's problems, but said that since no one approached them again regarding the matter, they did not bother.  According to Sajeev, he did not have the money to go to the consulate or to make phone calls.
Meanwhile, Khaleej Times, also spoke to Sajeev's employer and this what he said, "He has been overstaying .There is a fine of around Dh6,000 in Sharjah, and I have cleared the dues. He himself is responsible for his problems. I have pardoned him from the absconding case."
Last Updated Mar 31, 2018, 7:00 PM IST