7 times Cho humiliated Jayalalithaa
Cho Ramaswamy had a hate-love relationship with Jayalalithaa
He was critical of her 1998 May election decisions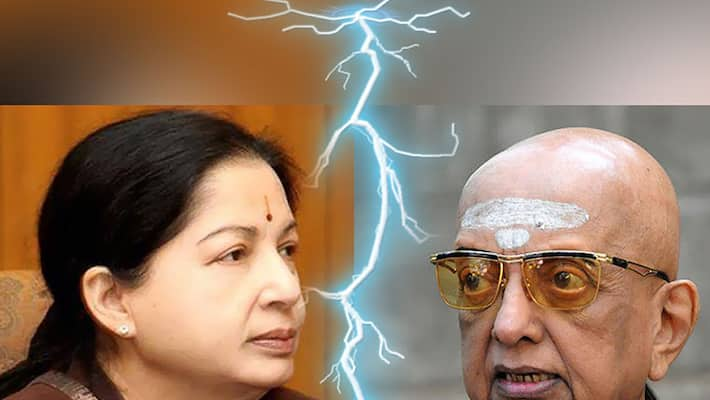 If she (Amma) comes back to power, I think, she will be worse. I hope God spares Tamil Nadu!
Everyone has recounted how Cho Ramaswamy died a day after his close friend Jayalalithaa's death. Some have even hailed him as the Chanakya to Jayalalithaa (Chandragupta) but the relationship between the duo had not always been a smooth-sailing one. It was only post 2004 that he warmed up to Amma and since then he has been counted as a close friend and advisor to Jayalalithaa. Did you know? At one time, Cho was vitriolic in his comments against Jayalalithaa. Here are some examples:
In an interview to Rediff, he made clear his displeasure at the then Vajpayee government trying to placate AIADMK's Jayalalithaa. What happened was that in the snap polls held in 1998 (after Congress withdrew support to the Inder Kumar Gujral-led government), the AIADMK joined the BJP-led NDA. But soon she had a falling out with Vajpayee and the AIADMK withdrew support to the Vajpayee government as he refused to withdraw all pending corruption cases against her and dismiss the DMK regime in Tamil Nadu. As a result, in a vote of confidence, the BJP lost the motion by one vote and the government fell within 13 months of having taken over.
 On the 1998 May elections: He criticised Amma's decision to help the Congress to bring down the BJP government and observed that this move has been taken very badly by the people of Tamil Nadu.  "And her behaviour has been so absurd, so arrogant, so unreasonable that many of the votes she polled last time must have been alienated by now."
When asked whether Jayalalithaa had orchestrated this political drama with the support of an advisor, his answer was, "I don't think she needs any prodding for this. She is capable of doing all this by herself."
"As a political observer, let me say success in this election has gone to her head so much that she thinks she can get away with everything. In her opinion, the BJP government is a creation of hers. She doesn't think that others in the government count."
"I think this behaviour is a kind of megalomania. I don't think this is an extension of her film career because in films, this kind of behaviour is not possible. The film world is much more sensible."
 "How can you call this courage? When a person behaves like this, in the most abominable fashion, you can't call this courage. Her purpose is not yet served. She has won an election but her purpose still remains unserved. The purpose is to get rid of this government. That is her anger."
There was a moment when he even said they were not friends: "I do not want to talk about my association with her. Because she issued a public notice, a statement which appeared in all the newspapers saying that since I have hurt her so much politically, I should not call myself a friend of hers. Well, I feel relieved."
"If she comes back to power, I think, she will be worse. I hope God spares Tamil Nadu!" as told to Shobha Warrier
Last Updated Mar 31, 2018, 6:49 PM IST