Born and died on footpath: The other side of Koramangala
Since 2013, 100 families have been forced into squalor thanks to a mall.
Though Koramangala is rich with large enterprises, the footpaths tell a different story.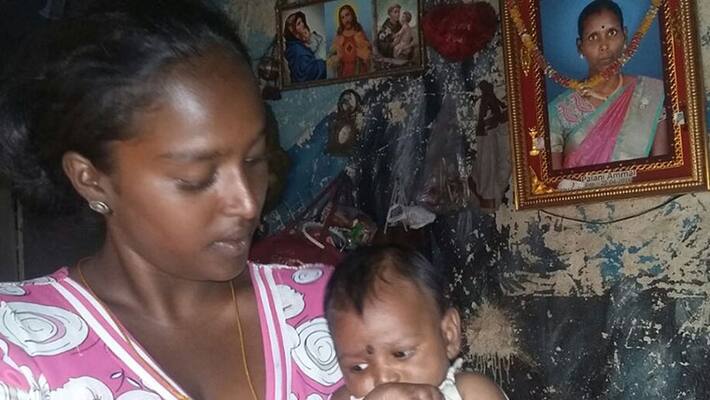 Evicted by the Karnataka government in 2013 from slum homes on the promise of good residential complexes in Koramangala within two years, close to 100 families have been forced to live on the footpath. A few deaths and births have also taken place on the road, within what is considered.
 
Shantha Mary, one of those on the footpath, told Asianet Newsable that while Koramangala had a 'posh' image since it houses a number of companies and job opportunities, the plight of its lowest residents was never highlighted.

Four years ago, the BBMP demolished slum homes as a private company wanted to build a shopping complex. 

"On 18 January in 2013, suddenly the JCB machines broke all the sheds, and we were forcefully evicted. The BBMP, which claimed it had plans for slum homes, did not even provide transit arrangement. As a result about 150 families started to pitch small tents on the footpath," Mary said.

Like Mary, Jyothi, another Ejipura resident along with her ailing mother, made the footpath her home. Although she and her husband managed to survive the harsh summers and merciless winters year-after-year, her mother Palaniammal, succumbed. 

"My mother was a diabetic and BP patient, and we could not even afford medicines. As a result, my mother died a tragic death," said Jyothi.

Jyothi, who witnessed her mother's death seven months ago, delivered a male baby a month back. 

"Including my baby boy, so far six births and about seven deaths have been witnessed on the footpath. The situation here is the worst as the storm water drain runs close by and lots of families living on footpath suffer health complications," she said. 

Jyothi's husband plays drums at funerals and is the sole breadwinner.   

NGOs who help out through numerous health camps say that a healthy population has been affected. Selva, an activist from the People's Union For Civil Liberties, said, "A very healthy living population that was living here was made to suffer as the authorities evicted families without making any transit arrangement," 

Asianet Newsable learnt that the BBMP, through the Karnataka Slum Board, was supposed to build 900 slum homes to accommodate these poor Ejipura residents, who have been living in Koramangala for over two decades. 

Currently, the BBMP says it is building homes over 5 acres in Sulekunte in Sarjapura, but that is likely to take more time, and till then these families will have to continue to be born, live and die on the footpath. 
Last Updated Mar 31, 2018, 6:32 PM IST