Valentine's Day: Vatal gets horses married; demands Rs 2 lakh cash for lovers from Union govt
Kannada activist Vatal Nagaraj got horses married as a symbolic move on Valentine's Day and said he will also get Hindu activist Pramod Muthalik next to enter wedlock. Vatal also pitched for the declaration of holiday and also cash assistance of Rs 2 lakh for lovers by the Central government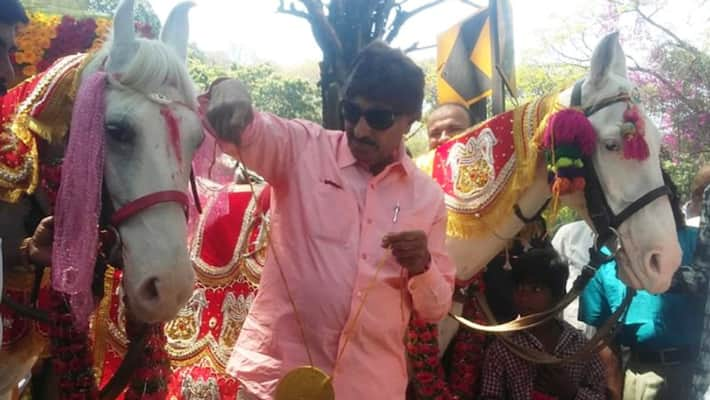 Bengaluru: Known for his unique protests and highlighting issues by using animals like donkey, buffalo, camel, horse, sheep and goat, pro Kannada activist and founder of Kannada Chaluvali Vatal Paksha, Vatal Nagaraj on Thursday married off horses as a symbolic move on Valentine's Day.
Lashing out at the Hindu activist Pramod Muthalik of Sree Ramasene for raising an objection to such days, Vatal said he will also get Muthalik married off if the latter agrees and he will find a match for him.
"
"There is no age limit for love and marriage. Hence I will take up the responsibility to get Muthalik married off," said Vatal.
Vatal also pitched for declaration lovers day as holiday and cash assistance of Rs 2 lakh to lovers as daily expenses as shooting up. He also hit out at politicians for their failure to debate vital issues in state Assemblies and also in the Parliament.
"HD Kumaraswamy should come with Anitha Kumaraswamy, HD Deve Gowda should have come with his wife, Yeddyurappa should have come with his family members and same applies to Siddaramaiah. Instead of celebrating this day, these leaders waste time in Assembly and Lok Sabha by indulging in mudslinging," he said.
Last Updated Feb 14, 2019, 6:11 PM IST