Thunderstorm claims life of painter in Bengaluru
The torrential rains on Saturday took the life of a man in Bengaluru, along with damaging vehicles and uprooting trees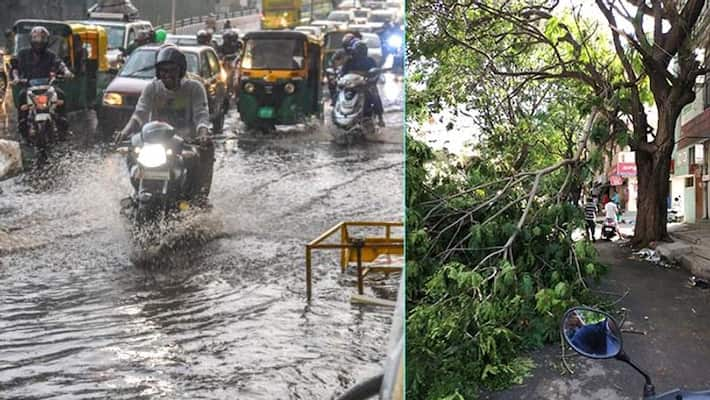 Bengaluru: The thunderstorm on Saturday night, accompanied by heavy rains, claimed the life of a 36-year-old man in the city.
The deceased has been identified as 36-year-old painter, Satish A, a resident of KHB Colony, Cox Town, in Bengaluru.
Satish reportedly came in contact with a live wire which caused his death. At around 10:30pm on Saturday, a frond from a coconut palm in the compound of his house fell during the rain. He went outside his house to move the frond unaware that a live wire was entangled with it and was electrocuted.
On Saturday, as heavy rains crippled Bengaluru yet again, several trees were reported to have been uprooted. The downpour also affected power supply putting many areas into hours of darkness.
Several vehicles were also damaged in the city. Radio jockey Shruthi was driving through Sankey Road signal, Sadashivanagar when a tree branch fell on her car, shattering the glass. She reported that her family members were sitting in the back seat of the car. Had they not leaned forward they would have been severely injured, she said.
The hailstorm and gusty winds staged a violent return on Sunday night. An advertisement hoarding crashed near a trumpet interchange. 18 trees were uprooted near Raj Bhavan, Rajajinagar, Jayamahal, Kengeri and Malleswaram.
Ambulances on KIA Road and Mekhri Circle blared as they could not move due to the excess traffic caused by the rain. People heading to the airport were asked to use alternate routes. Basavanagudi also reported waterlogging on roads.
After the rainy weekend that resulted in the death of one person, the city is likely to experience heavy rains accompanied by thunder and lightning for another two or three days.  
Last Updated May 27, 2019, 5:52 PM IST