Sarjapur residents plant saplings in memory of CRPF jawans killed in Pulwama
42 saplings of the African Tulip were planted along Sarjapur Road Circle by residents. The saplings are guarded by tree-guards and each sapling bears the name of each of the jawans killed in the terror attack.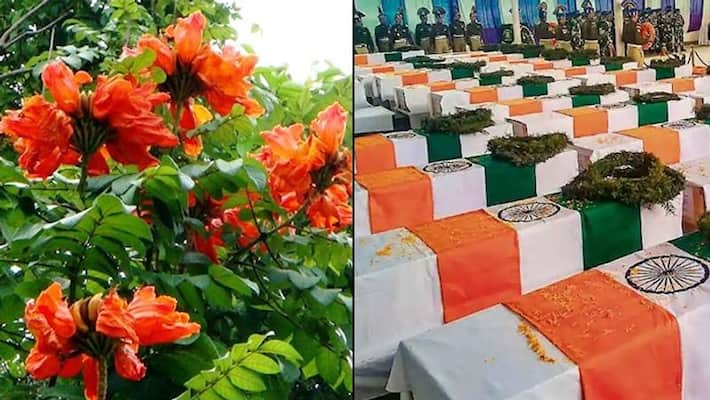 Bengaluru: Residents of Bengaluru's Sarjapura joined together to plant 42 saplings of African Tulip in memory of the CRPF personnel killed in the Pulwama terror attack. Members of the Sarjapura Road Welfare Association (SRWA) who organised the event, called it 'Green Shradhanjali'. The saplings were placed within tree guards with name plates bearing the name of the jawans.
The members said that they were really emotional at the time when news of the terror attack flashed on TV screens and mobiles. "Many lit candles, many went for a candle-light marches. We decided to plant trees bearing the names of our jawans," said one of the members of the association. The members strongly believe that the memories of the martyrs will live on as the trees grow.
A tree doctor was also present at the plant drive who said that the African Tulip is one of the most beautiful flowering trees. The trees grow at a fast pace and have bright flowers when in full bloom.
The initiative taken by the association was crowdfunded and was also sponsored by few commercial establishments. The cost for 42 African Tulip saplings was Rs 3500 said association members who also vowed to look after watering the trees and to take good care of them.
President of the SRWA, Pradeep Kumar, said that they were mulling the decision to plant trees along the Sarjapura Road Circle as the stretch had been dug up for road widening projects. "The Zilla Panchayat president, C Munniraju, told us to plant trees and we were more than happy. We felt it was the right time to plant trees here in memory of our jawans," said Pradeep Kumar, president of the association.
February 14 saw one of the worst terror attacks on the Armed forces in India after a vehicle packed with explosives rammed into a convoy of 78 buses carrying more than 2000 CRPF personnel to Srinagar. The terror outfit Jaish-e-Mohammed claimed responsibility for the attack. The bomber was about 20 years old and had joined the outfit in March last year. 
Last Updated Feb 18, 2019, 3:27 PM IST