Lok Sabha results: Live update of Bengaluru South, North, Central and Rural constituencies
Watch this space for live updates on the results that will seal the fate of candidates in Bengaluru South, Bengaluru North, Bengaluru Central and Bengaluru Rural constituencies. The results are out on May 23.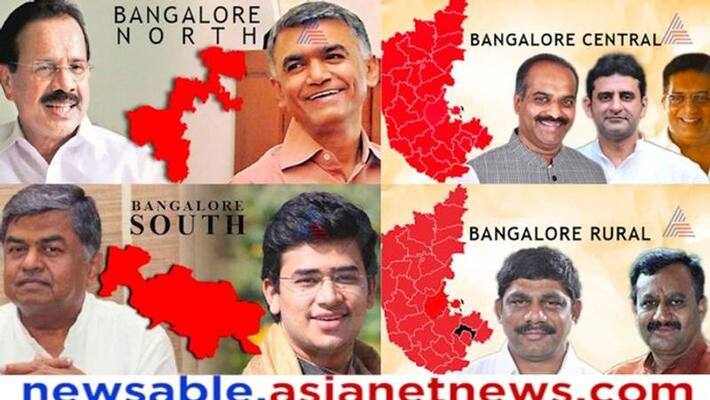 Bengaluru: BJP is leading in Bengaluru South, Central and North constituencies, whereas Congress is leading in Bengaluru Rural.
·         In Bengaluru South, BJP's Tejasvi Surya is leading against Congress' BK Hariprasad
·         In Bengaluru Central, BJP's PC Mohan is leading with a large margin
·         In Bengaluru Rural, from the beginning of counting, Congress candidate DK Suresh has been maintaining a lead
·         In Bengaluru North, BJP candidate DV Sandananda Gowda is leading by over 30,000 votes.
Also read: Karnataka election results 2019: Live updates
Bengaluru Central:
It is one of the crucial constituencies in Bengaluru. The constituency was formed as a result of delimitation in 2008. Eight Assembly seats including Sarvajnanagar, CV Raman Nagar, Shivajinagar, Shanti Nagar, Gandhi Nagar, Rajaji Nagar, Chamarajapet and Mahadevapura are included in this Lok Sabha constituency.
BJP's PC Mohan and Congress's Rizwan Arshad are arch rivals in Bengaluru Central since the last election in 2014.
Bengaluru South:
Late BJP leader Ananth Kumar had been winning the constituency since 1998. In 2014, he secured 6,33,816 votes against Congress's Nandan Nilekani, who secured 4,05,241 votes.
After Ananth Kumar's death in November, there were talks of his wife Tejaswini being fielded from Bengaluru South. But in the last moment, it was announced that 28-year-old Tejasvi Surya will be the chosen candidate.
Bengaluru North:
The key candidates from Bengaluru North are Congress's Krishna Byregowda, BJP's DV Sadananda Gowda, Bahujan Samaj Party candidate Syed Hydri Babloo and Karnataka Pragnyavantha Janatha Party candidate Abdul Azeez.
This Lok Sabha constituency covers eight Assembly constituencies – Byatarayanapura, Dasarahalli, Hebbal, KR Puram, Mahalakshmi Layout, Malleshwaram, Pulakeshinagar and Yeshvanthapura.
In 2014, BJP candidate Sadananda Gowda won the Lok Sabha election with a margin of over 2.29 lakh votes.
Bengaluru Rural:
Bengaluru Rural Lok Sabha constituency was created in 2008 as a result of delimitation of Parliamentary constituencies.
The constituency includes eight Assembly seats - Kunigal, Rajarajeshwari Nagar, Bengaluru South, Anekal, Magadi, Ramanagara, Kanakapura, and Channapatna.
In the year 2014, general elections were held again, and Congress leader DK Suresh won securing 6,52,723 votes against BJP's Muniraju Gowda who obtained 4,21,243 votes.
 
Last Updated May 23, 2019, 11:32 AM IST