Karnataka Congress MLA: My name dragged in IMA scam to politically isolate me
Roshan Baig claimed that Congress members are targeting him with an aim to politically isolate him. Protests have been witnessed at this Karnataka MLA's residence in Bengaluru for his alleged connection with I Monetary Advisory scam.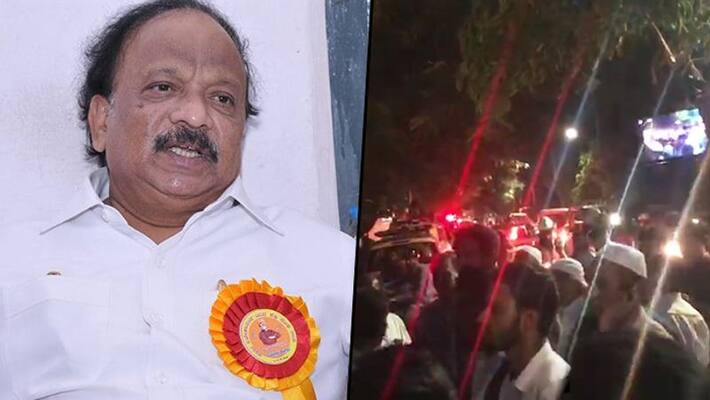 Bengaluru: Following protests in front of the residence of Karnataka MLA Roshan Baig for his alleged connection with I Monetary Advisory (IMA) scam, the Congress leader has taken to Twitter to clarify his stand. He said that his party men are trying to politically isolate him.
Earlier, Roshan Baig had lashed out against Congress leaders Siddaramaiah, KC Venugopal and Dinesh Gundu Rao.
The owner of IMA has allegedly cheated the investors to the tune of more than Rs 2000 crore. The owner had released an audio clip stating that Shivajinagar MLA from Bengaluru, Roshan Baig, had taken Rs 400 crore from him.
Baig suffered backlash soon after. Even though he took to Twitter to clarify that he has nothing to do with IMA or its owner, investors started staging protest in front of his residence in Shivajinagar.
Baig has claimed that it is an effort undertaken by his party members to malign him for his outburst against the leaders.
Roshan Baig, on Twitter wrote:
"After my recent political fallouts, some of my adversaries have made a full-fledged attempt at assassinating my character by orchestrating a series of events using underhanded methods. The entire hitjob has been carried out using a baseless, un-investigated audio recording.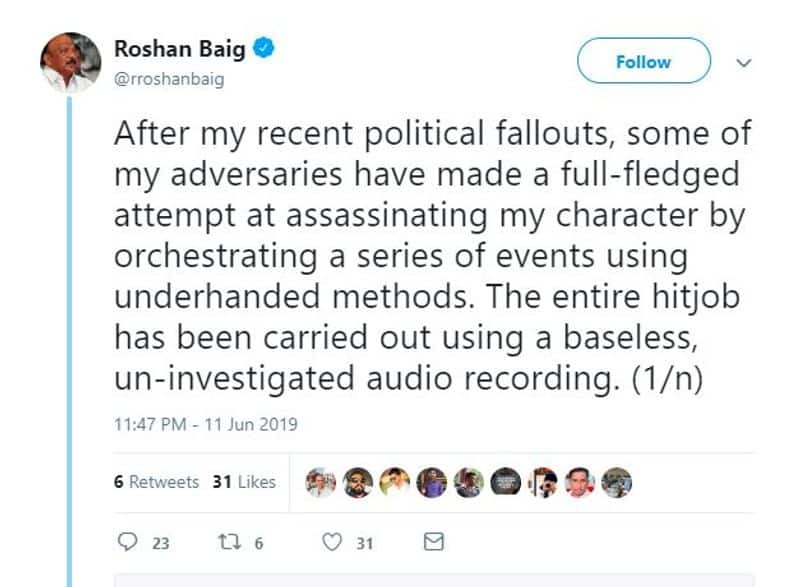 I humbly suggest & request for the highest order of investigation and enquiry to be carried out w.r.t #IMAFraud case, the case should be sent to the CBI or the NIA or the SFIO if needed.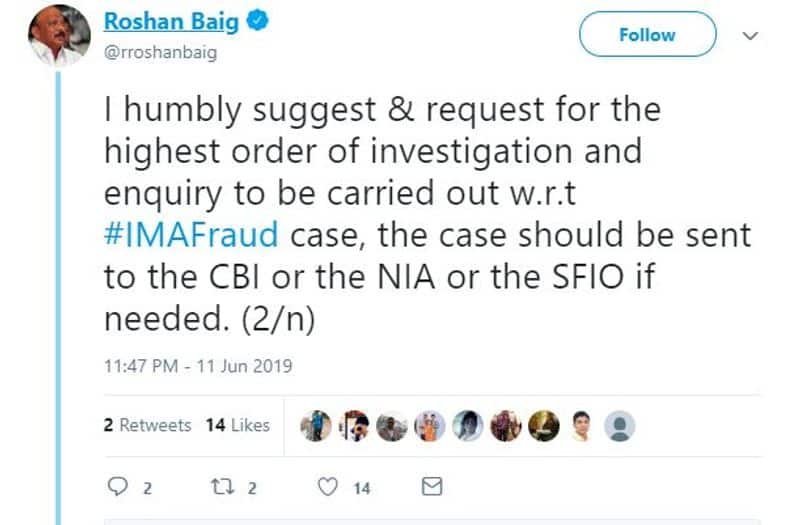 Disappointed with a few journalists for maligning my reputation without even enquiring about the veracity of statements made in the audio recording. The entire conspiracy has been hatched in light of my recent political outbursts in order to politically isolate me.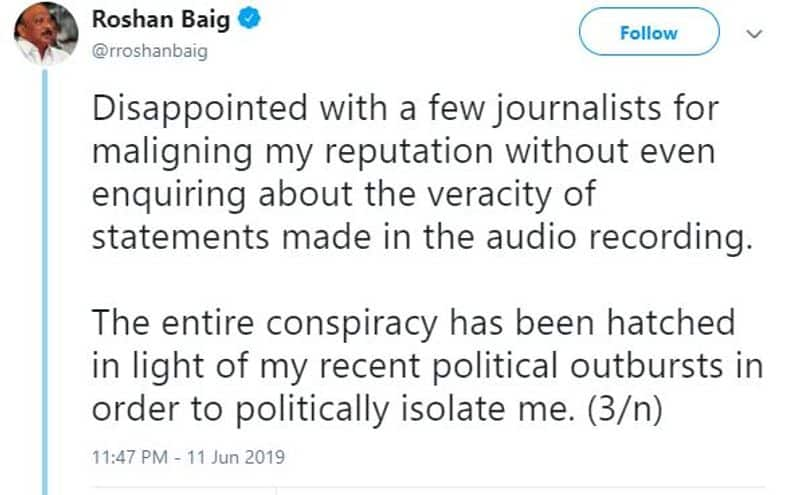 Never did I endorse the idea of investing money in IMA. My association with IMA was for developing PPP projects in Shivajinagar and the proof of that is seen in form of VKO school. IMA exec harboured relationships with a wide range of politicians and community leaders.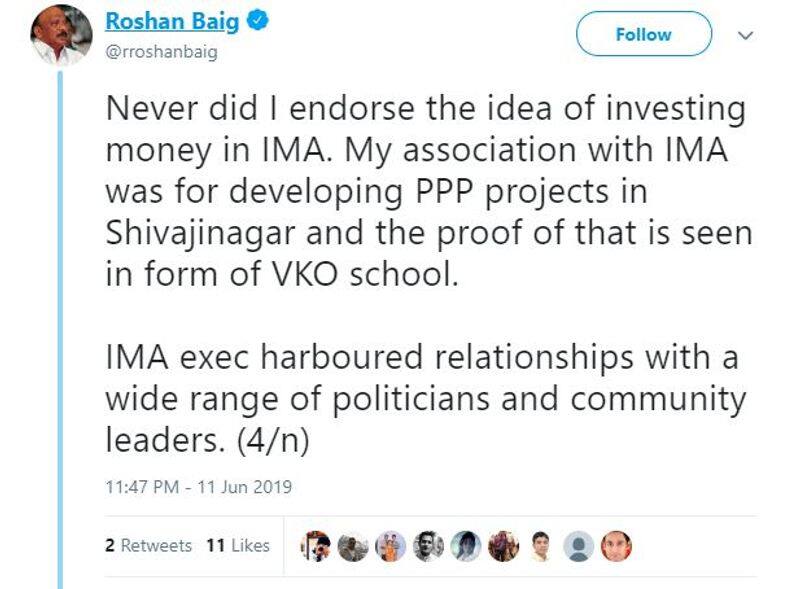 I was informed that a good chunk of people seen at the protests outside IMA Jewels were mobilised to mix in with the people who were actually aggrieved to intensify the situation, by a politician who has been trying very hard to become the "face of the community".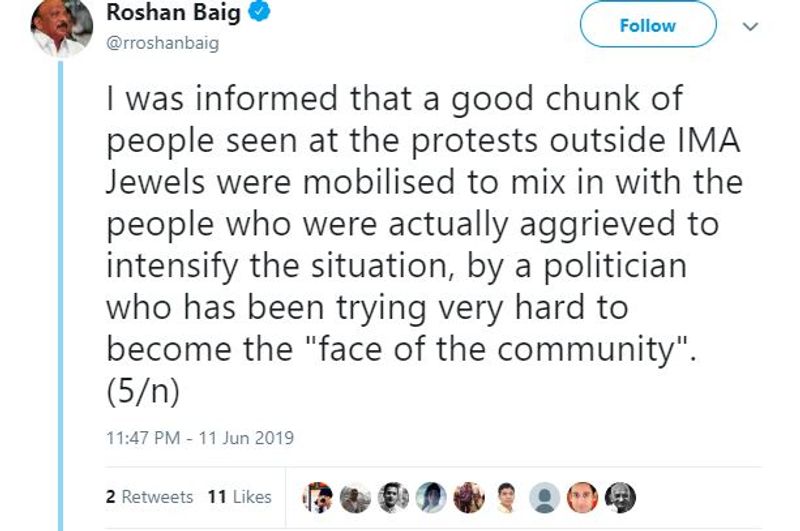 The whole issue broke out when I was in Delhi to attend to my official meetings. My schedule was public and somehow the unverified audio recording was circulated virally on the day I wasn't in Bengaluru. This handicapped me from attending to my constituents.
I'm going to meet all my constituents who were affected and work with the designated authorities to bring the accused to book and help the affected ppl get their hard-earned money back. "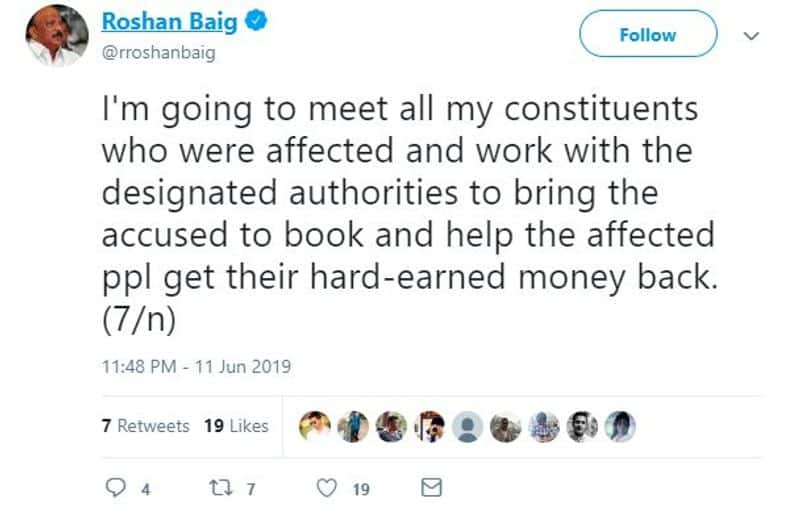 Last Updated Jun 12, 2019, 6:01 PM IST