JDS leader's daughter arrested in connection with Lakshmana murder case
It is very likely that the rowdy Lakshmana murder case could take a political turn, following the arrest of Varshini, daughter of a JD(S) leader. It has been alleged that Varshini's lover Roopesh was antagonised by Lakshmana's interference in their personal affairs, which prompted Roopesh to hire contract killers, Cat Raja and Marathi Hemanth.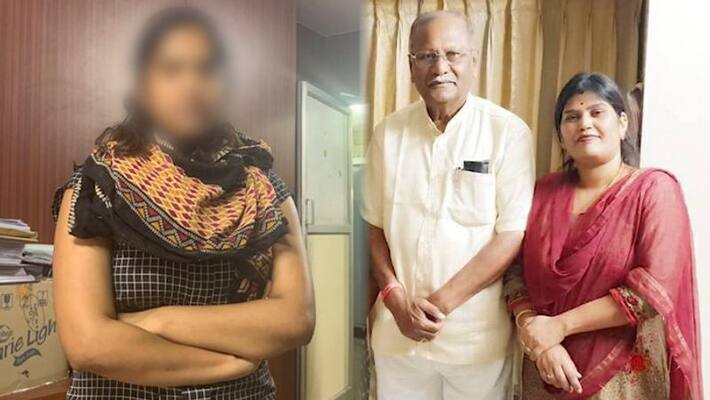 Bengaluru: Central Crime Branch's investigation into the rowdy Lakshmana murder case revealed that prime accused Roopesh used his girlfriend Varshini to trap Lakshman Kumar who was hacked to death in broad daylight on Thursday. Police later picked her up from her residence in Bengaluru.
Varshini, 21, a resident of Jnanabharathi is an MSc psychology graduate from London and was allegedly in a relationship with Roopesh R, 25, a habitual offender. Varshini's mother Padma Harish is Maddur Taluk President of the JD(S) Women's wing. It is said that Lakshmana became close to her soon after she joined the JD(S) and Padma sought Lakshmana's help to keep Roopesh out of Varshini's life.
Enraged by constant interference, the duo planned to eliminate Lakshmana and as per the plan Varshini pretended to grow closer to Lakshman, police said. Accordingly, Roopesh contacted gangster Cat Raja, Hemanth and others and offered them a huge sum of money to eliminate Lakshman.
ALSO READ: Lakshmana murder case: Police shoot rowdy Akash, make one more arrest
Varshini became close to Lakshmana who started taking care of her expenses and transferred money to her account frequently. Varshini, would in turn transfer the money to Roopesh's account who in turn gave it to Cat Raja and Hemanth as supari to kill Lakshmana.
On Thursday, Varshini called Lakshmana on his mobile and asked him to meet her in a hotel room. Lakshmana went to the hotel and headed back after he could not find her. During his return home a gang of armed men intercepted his car near ISKCON temple and hacked him to death in broad daylight.
ALSO READ: Bengaluru gangster hacked to death in broad daylight
The police who found his mobile phone, analysed call record details which led to the arrest of Varshini and her boyfriend Roopesh. 
The police have so far arrested six persons in connection with the case and have taken them into custody till March.

Roopesh met contract killer in jail:
According to police, Varshini had earlier helped Roopesh burgle the house of a Mandya constituency MLA, Annadani in 2014. Varshini who used to visit the MLA's house allegedly stole the keys to the house and handed them over to Roopesh to make a duplicate set, before returning the original.
Roopesh was subsequently arrested for burglary and it was during his stay in jail in Mandya when he met gangsters Cat Raja and Hemanth Kumar and has stayed in touch with them since then.
Last Updated Mar 13, 2019, 6:46 PM IST