Lakshmana murder case: Police shoot rowdy Akash, make one more arrest
The investigation into Lakshmana murder case has resulted in another firing by Central Crime Branch. Rowdy Akash accused in the case was shot at by CCB inspector Murugendraiah when he reportedly attacked head constable Arun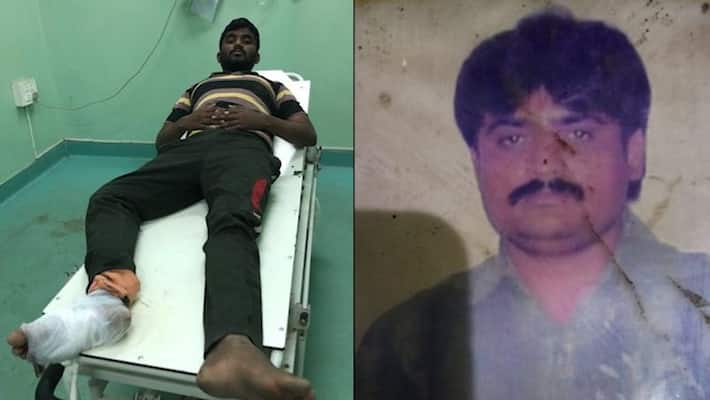 Bengaluru: Central Crime Branch (CCB) officials shot another accused in the Lakshmana murder case. Rowdy Akash was shot by police when they attempted to make an arrest. Based on the credible information about Akash's whereabouts in Uttarahalli in Bengaluru South, CCB officials staked out the area through the night and spotted his car at 5 am on Wednesday. Akash tried to use pepper spray on the cops in an attempt to escape, but police personnel managed to overpower him.
Akash alias Mama is one of the accused in the murder of rowdy Lakshmana along with Cat Raja and Marathi Hemanth. During the investigation police unearthed clues that pointed to 12 people who were involved in the Lakshmana murder case.
Although police claim this murder could be due to an old rivalry or due to involvement of women sources state that the murder is purely related to real estate deal gone wrong. On March 7, Rowdy Lakshmana was murdered in broad daylight near ISKCON Temple, Rajajinagar.
ASLO READ: Bengaluru gangster hacked to death in broad daylight
After the murder gained much publicity, the case was transferred to the CCB. The deputy commissioner of police Girish, assistant commissioner of police Balaraj are leading investigations. Within two days of the murder, the police first arrested Cat Raja, a rowdy sheeter, after they shot him. Following a lead, the police then laid their hands at another Rowdy Sheeter, Marathi Hemanth. Again, police shot him after he reportedly tried to attack one of them in a bid to escape.
According to police officials, eight accused have been arrested so far and are on the lookout for four others.
ALSO READ: JDS leader's daughter arrested in connection with Lakshmana murder case
Last Updated Mar 13, 2019, 6:48 PM IST