Budget session: Coalition govt MLAs reach Vidhana Soudha; Anand Singh accompanies Siddaramaiah
Congress leader Ganesh Hukkeri, the chief whip of the Karnataka coalition government, in a letter, asked all the party legislators to be present for the Budget session starting on Wednesday (February 6)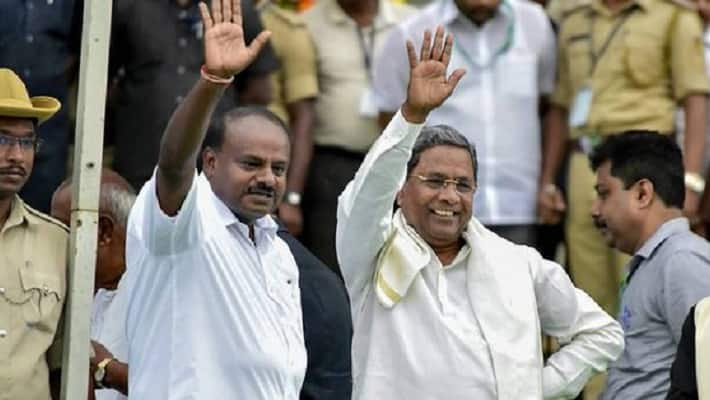 Two independent legislators are changing parties, one Congress MLA is recovering from his injuries caused by the other, who is absconding fearing arrest, and four MLAs are not traceable. Amid all this, the Karnataka coalition government is all set to begin its Budget session on Wednesday.
If the uncertainty over the number of the ruling party legislators who will be present is not enough, water resources minister DK Shivakumar being summoned by an Enforcement Directorate (ED) court in New Delhi on the day of the Budget is another headache for the HD Kumaraswamy's government.
On Tuesday, Congress leader Ganesh Hukkeri, the chief whip of the coalition government, wrote a letter asking all the party legislators to be present for the session.
The order says, "A whip has been issued to all of you to compulsorily be present in the House from February 6 to 15. From the time the Speaker begins proceedings and till the time he concludes, and to vote in favour of the government."
However, the present coalition government lost two of its independent MLAs support, reducing the number to 118. Of it, four MLAs namely Ramesh Jarkiholi, Mahesh Kumathalli, B Nagendra and Umesh Jadhav have not responded positively.
A letter from former chief minister Siddaramaiah's office, clearly shows that Athani's MLA Mahesh Kumathalli is not in contact with the party from the time he was absent during the Congress Legislature Party (CLP) meeting which was held in January.
In the letter, Siddaramaiah said, "On 27 January the CLP secretary had issued a notice to you asking you to meet me in person and explain your absence from the special CLP meeting. Even after nine days, you have not come to meet me. You are henceforth asked to meet me either before the session on 6 February or during it at the CLP leader office room number 133 in Vidhana Soudha."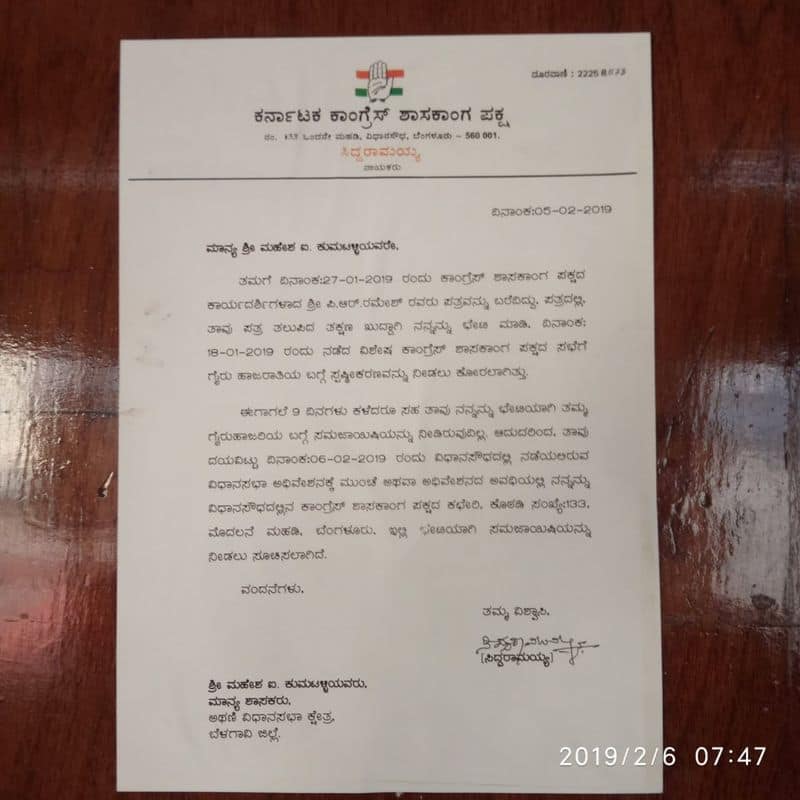 If all six legislators, including the two independent candidates, skip the session, the coalition's figures will drop to 112 as against BJP's strength of 106.
On the other side, JD(S) minister Zameer Ahmed Khan on Thursday met Anand Singh and urged him to attend the session. And, while all the party leaders are seen entering the session, Anand was seen getting down from the car along with Zameer and Siddaramaiah.
Last Updated Feb 6, 2019, 11:41 AM IST