Bengaluru: Four held at Kempegowda International Airport for trying to smuggle gold
Four passengers including three women were detained at Kempegowda International Airport for smuggling gold into Bengaluru.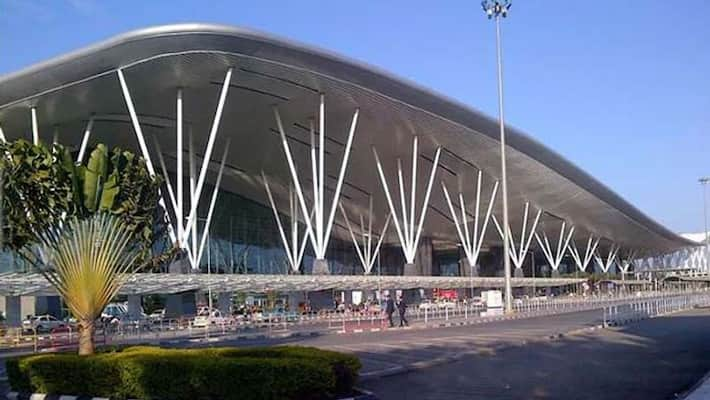 Bengaluru: Three women and one man were detained for smuggling gold in three days at Kempegowda International Airport. Two of the women were Sri Lankans.
On Tuesday, a woman was intercepted by customs officials at the airport. She is an Indian passport holder who was flying from Muscat to Bengaluru via Hyderabad. She was wearing a think silver chain which was later found by the officials that it was crafted out of crude gold weighing 425.5g. She told the officials that another passenger flying from Muscat had handed over the chain to her. The gold chain was painted silver to avoid suspicion. To make sure of the identity of the international passenger who had attempted to smuggle, investigation is still going on.
In the early hours on Thursday, two Sri Lankan women flying separately in Sri Lankan Airlines Flight UL 173 landed at Kempegowda International Airport from Colombo, Sri Lanka. They were intercepted by the air intelligence unit. A 75-year-old woman was found in possession of gold worth about Rs 3.3 lakh weighing about 98.9g in her luggage and on her body in the form of ear studs and gold nuggets. A 44-year-old woman was caught carrying gold weighing about 264.7g in the form of a gold nugget, a pair of gold studs and a bracelet worth Rs.8.8 lakh. The smuggled gold was hidden in her undergarments.
An Indian man was also caught on the same flight. He was caught smuggling gold in his undergarments. He had smuggled gold worth Rs 13.3 lakh weighing about 405.4g hidden in the form of paste in his undergarments.
Last Updated May 19, 2019, 5:03 PM IST