Inflation up for the first time in 17 months, smashes hope for a rate cut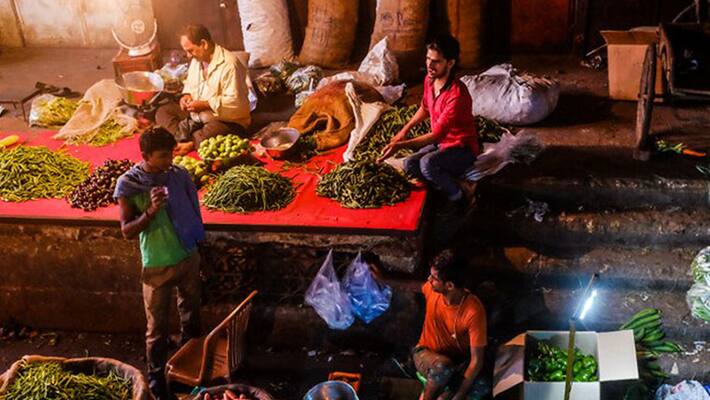 Wholesale price inflation (WPI) turned positive after a gap of 17 months, rising 0.34% year-on-year in April against -0.85% in the previous month, as food and manufactured items turned dearer while deflation in fuel products narrowed sharply. On a seasonally adjusted basis, the headline Wholesale Price Index (WPI) rose 0.86% month-on-month, the strongest pace of sequential jump in the last 32 months, official data released on Monday showed.
Coming on the back of a spike in retail inflation to 5.39% in April from 4.83% in the previous month, the latest WPI data dashed hopes of a rate cut by the Reserve Bank of India  at its next monetary policy review meeting on June 7. A rise in wholesale price inflation will also serve to drive up the gross domestic product (GDP) deflator. This means real GDP growth may remain under pressure in the current fiscal, while nominal GDP may get a slight leg-up.
The economic survey has projected the country's real GDP growth at 7-7.75% in 2016-17, compared with the estimated 7.6% for 2015-16, while the Budget had pegged nominal GDP growth at 11% for the current fiscal, against an estimated 8.6% (the lowest expansion in the latest GDP series) for 2015-16. Higher nominal GDP may offer some relief to the government in sticking to its fiscal deficit target at 3.5% of the GDP for 2016-17, compared with 3.9% for 2015-16.
The rise in the WPI in April was greatly aided by higher food prices, hardening of global commodity prices and a slight improvement in domestic demand in select segments. Core inflation touched -0.8%, compared with -1.1% in the previous month, while manufactured items inflation turned positive at 0.71% in April after remaining in the negative territory for 13 months. However, analysts said it is still early to believe that positive inflation is suggestive of the return of pricing power of manufacturing sector and chose to wait for a trend to emerge. Moreover, the WPI data may not be giving a correct picture of the price pressure in the economy, as these are based on the old series, while the CPI series is an updated one.
The new series with the 2011-12 base year, expected by September, will bring in more clarity, analysts said. Shubhada Rao, chief economist at Yes Bank, said the warmer-than-usual summer has exacerbated the seasonal effect of the increase in prices in April, with consolidated food prices (both primary food and manufacturing food items) rose by a 21-month high of 2.40% month-on-month. Primary food inflation rose 4.23% in April from a year before, compared with 3.73% in March, driven by a 36.36% spike in pulses.
Manufactured food products inflation rose 8.01% in April, against 4.47% in the previous month, led by a 16.07% spike in sugar prices. Although pricing power continues to remain weak, continuous pressure on input prices could lead to some pass through in the second half of this fiscal, considering the positive impact of Seventh Central Pay Commission on discretionary spending, said Rao. "Going forward, while WPI inflation is likely to remain low in Q1FY17, its movement thereafter could be rapid with average headline inflation in Q4 FY17 expected around 4% levels."
A breakdown of the WPI into input and output prices shows that the majority of the pick-up was driven by higher input costs (food, fuel and commodities), which rose (y-o-y) to -0.5% in April from -2.1% in March, according to a report by Nomura economists Sonal Varma and Neha Saraf. Output price inflation also inched up, but only marginally to 1.7% in April from 1.3%, indicating that producers in select segments also passed on higher input costs to consumers. "In our view, profit margins could come under pressure owing to rising costs amid still-subdued domestic demand," they said.
Better domestic demand drove up prices of cement, beverages & tobacco and wood products, although viewing demand-side pressures as broad-based could be premature, as segments such as paper and leather products still witnessed sequential price declines.Saugata Bhattacharya, chief economist at Axis Bank, said: "The inflation trajectory going forward will be a bit higher, till the effects of the monsoon become clear. While the real interest levels still indicate room for a modest repo rate cut (this fiscal), the higher WPI will align the GDP deflator with the CPI and result in a lower real GDP growth in FY17."
He said the arrival and the progress of monsoon will be a key factor for the RBI before it resorts to another round of repo rate cut. Aditi Nayar, senior economist at Icra, said the delay in the onset of the monsoon as forecast by the India Meteorological Department, would prolong the seasonal hardening in food prices. "Although a delayed onset does not necessarily signal a lagged progress of rainfall across the country, food prices are likely to ease only after a substantial area receives precipitation. The continued hardening of crude oil prices would also exert upward pressure on the WPI in the ongoing month," she said.
India's crude basket rose by 39% on a monthly average basis between January and April. However, the WPI Mineral Oils Index witnessed a rise of just about 7% (accounting for lags).With price of most of the fuel components decontrolled, the impact of higher adjustments is likely to play out on fuel inflation in the near term. Fuel inflation touched -4.83% in April, compared with -8.30% in the previous month. Global commodity prices have started hardening, which would have some impact on domestic inflation in the coming months.
Last Updated Mar 31, 2018, 6:48 PM IST