Currency ban pushes nation to brink of chaos
Private hospital had to function on credit.
Train tickets were sold in huge numbers.
Gangs exchanging ban currencies for commission.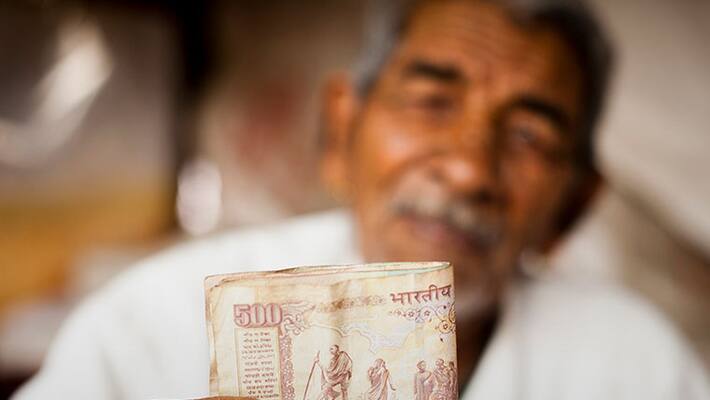 The demonetization of ₹500 and ₹1000 has been welcomed by many as it is seen as an effective way to carve out illegal black money that is stashed in high-value cash. 
Though the urban India is still somehow equipped for the sudden change of currency, but the vast demographical variety of India makes it a difficult act to achieve in 50 days time. 
The announcement that made in the evening led chaos and panic the very next morning when the country woke up to the news that the cash that they are carrying in ₹500 and ₹1000 do not hold any value now.
This is how different segments of the society instantly impacted by the sudden change: 
Patients in private hospitals: Patients in private hospitals especially coming to the city from outskirts were affected instantly as they come with their cash in ₹500 and ₹1000. Some lack bank account in the city and none operation of ATMs for next two days led to instant worry for the patients and their relatives. 
Many doctors even questioned the government's move only to allow govt hospitals and pharmacies to accept the banned currencies and not the private hospitals. 
Many medical procedures had to be postponed, emergency procedures were done on credit, patients could not be discharged for no payment, new admissions and many other day-to-day hospital activities were done on credit. 
In a press release, Fortis Healthcare, stated that "In view of the hardship being caused to a large number of patients at the private hospitals, we have made an urgent representation to the government that this exemption should apply equally, for payments, at private hospitals," 
Chaos in rail booking counters: The railway reservation counter also witnessed chaos and panic. As railways was allowed to accept the banned currencies, people queued up in front of the counters to book tickets. In fact, people even tried to buy ₹10 platform ticket by exchanging ₹500 and ₹1000 currencies. 
All counters selling different categories of train tickets were seen overcrowded. As per a report, there was a four to five times surge in ticket booking as compared to other days. 
Thankfully, adequate measures were taken by the railways to meet this situation. Apart from railways, airports, petrol pumps, and govt hospitals were the other places where banned money was accepted. 
Impact on small shop owners: Owners of small shops and people who were travelling during the announcement suffered directly the next morning. Commuters travelling interstate or intercity had difficulty in reaching their destinations as they were carrying ₹500 and ₹1000 notes. 
The small shop owners were seen baffled the next morning not knowing what to do with the cash available in ₹500 and ₹1000. Many shops also displayed placard announcing '₹500 and ₹1000 not accepted'. 
In fact, at some places, people also took this as an opportunity to capitalise on the situation by exchanging banned notes for a lower amount of cash. People took a commission for exchanging banned currencies. 
As a matter of fact, Bengaluru also witnessed gangs who instantly took out 100 rupee notes from the ATMs after the announcement and exchanged them for banned ₹500 and ₹1000 for a commission. 
No money to essentials: Despite having money on the bank accounts and some cash in the wallets, suddenly everyone was left to wonder how to manage the day to day activities for the next two days. Many even faced difficulty in buying the essentials and the usual buzzing places seemed deserted due to the ban. 
Impact on the greater India: And, then there were the daily wage earners, migrant construction worker, domestic help, porters, vegetable sellers, child labours, and many who are often overlooked who suffered incredibly after the ban. There are many unreported cases, where such individuals could not manage a meal due to the ban among other things.
And, also remotely located people of rural India where the news will be delivered significantly late has been impacted and will be suffering in the long run. 
Mostly, these people do not have proper identity proofs, bank accounts, and other supposed essential documents required for the exchange of currency in legally approved manner. Ironically, they are the ones who get paid through ₹500 and ₹1000 notes. 
The moment these currencies were demonetized a significant section of greater Indian society left penniless. 
Here are a couple of Tweets that summarise much of this irony:
Last Updated Mar 31, 2018, 6:33 PM IST