Marafy: Saudi Arabia unveils new megacity project featuring 11-km-long canal 'Oasis'
Marafy, backed by the Saudi Public Investment Fund and managed by ROSHN Group, is set to offer a remarkable waterfront experience reminiscent of London, featuring an 11-kilometer-long canal.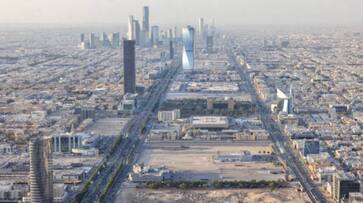 Riyadh: A proposal to build a megacity in Saudi Arabia is expected to feature an iconic waterfront akin to London's. According to an Al-Arabiya article, the city of Marafy will be constructed north of Jeddah and feature a mixed-use land development. The publication also stated in its claim that it will have a seven-mile (11-kilometer) man-made canal in the middle that can accommodate 130,000 people. The Public Investment Fund (PIF) of Saudi Arabia is supporting ROSHN Group in the construction of Marafy.
Also read: Breathtaking! Northern lights paint European skies in vibrant hues of red, green and purple (WATCH)
Developers claim that the purpose of the megacity is to integrate a marine environment into the centre of a historic city that has long been a destination for pilgrims, traders, and visitors. According to Al-Arabiya, there will be several distinct districts encircling the navigable canal, which is 11 kilometres long and 100 metres wide. It connects to and extends Obhur Creek.
"Marafy will be a gamechanger on the real estate development sector, raising the bar of development in the region, boosting the quality of life, and creating a huge impact in Jeddah," David Grover, Group CEO of ROSHN Group, said in a release.
He continued by saying that Marafy is one of the iconic projects that would establish Jeddah as a premier travel destination.
An intermodal transportation system featuring water taxis, buses and subways will link the canal's waterfront neighbourhoods to one another and the rest of Jeddah. Additionally, a direct connection to King Abdulaziz International Airport will be available.
The Kingdom is also constructing Neom, a brand-new city on the Red Sea coast, so this is yet another large-scale undertaking by the Kingdom. With a $500 billion budget, Crown Prince Mohammed bin Salman (MBS) is promoting Neom as a city that will completely transform Saudi Arabia's economy and act as a testing ground for innovative technologies that have the potential to transform everyday life.
 
Last Updated Nov 6, 2023, 1:58 PM IST