Breathtaking! Northern lights paint European skies in vibrant hues of red, green and purple (WATCH)
Northern lights dazzle Europe with vivid displays of red, green, and purple, delighting sky watchers and sparking awe on social media.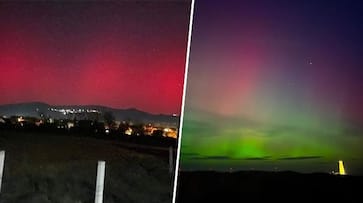 European sky watchers were treated to a stunning surprise on Sunday as the northern lights painted the night sky in vibrant hues of red, green, and purple across multiple countries. Images shared online showcased the sky aglow with vivid shades in various parts of Europe. The phenomenon, known as the "aurora borealis," illuminated extensive regions of Russia, Ukraine, Siberia, and the Urals with brilliant displays of green, scarlet, and purple throughout the night.
Expressing amazement at the intensity of the spectacle, a user from Norway shared on X (formerly Twitter), "Tonight had the strongest Northern Lights I've ever seen! I'm chasing them now for nearly 6 years on almost every winter night, but I have never seen the oxygen red as strong to the naked eye before."
Users across different regions also shared their experiences, with one from Orkney mentioning, "What a day - and night - we've had in Orkney ... Blazing sun by day and blazing aurora tonight!"
Additionally, striking images of the northern lights over Bosnian and Croatian skies were shared by another user.
The mechanism behind the northern lights involves streams of charged particles from the sun entering the earth's atmosphere and colliding with gas molecules. These collisions result in the release of photons of light, creating the mesmerizing auroras.
Typically occurring near the North Pole, the northern lights are anticipated to be notably stronger this year compared to the past decade due to increased solar activity, as reported.
Last Updated Nov 6, 2023, 1:24 PM IST