Diwali 2023: Decor tips to illuminate your house this festival of lights
Get ready for Diwali 2023 with creative decor ideas: classic lamps, vibrant flowers, colorful candles, ornamental torans, and imaginative glass jar lanterns to illuminate your home and public spaces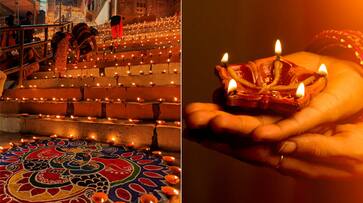 Diwali 2023: With the approaching festival of Diwali, it's time to prepare to illuminate your home and public spaces with festive lights and decorations that celebrate the power of light and symbolize the victory of good over evil and light over darkness. In the spirit of this auspicious and much-anticipated Hindu festival, here are some creative ideas to brighten up your surroundings and create a warm and inviting atmosphere using classic lamps, glass jar lanterns, and various other materials.
Classic Lamps: Classic lamps and lampshades remain timeless choices for Diwali decor. Embellish your home or workplace with an array of lampshades that will effortlessly bring out the charm of Diwali. You can explore a wide variety of quirky lamp designs available in the market if you're feeling adventurous. To add an extra touch of flair, consider experimenting with different colors to further enhance the ambiance.
Flower Decor: Diwali is a celebration of lights, colors, and flowers, making flower decor a perfect choice to adorn your home, house gates, and balcony. Adorning your surroundings with flowers is a surefire way to earn appreciative glances from passersby and guests. Opt for vibrant blooms such as yellow and red roses, marigolds, orange gerberas, and red carnations to infuse your home with the festive spirit.
Candles: Don't underestimate the enchantment of candles; they can be anything but boring. Vibrantly colored candles can work wonders in capturing everyone's attention. They come in a variety of shapes and sizes, allowing you to choose the ones that suit your style. Consider trendy candle burners adorned with stylish carvings, floating candles, tea lights, or wax-filled glass candles for a unique touch that combines traditional and modern elements.
Diwali Torans: Torans or wall hangings serve as exquisite ornamental accents that can elevate your decor. Crafted from colorful fabric, they are often adorned with intricate threadwork, embroidery, tassels, mirrorwork, bells, and lace, making them an ideal choice for indoor and outdoor home decor. These beautiful pieces can add a touch of tradition and elegance to your festive ambiance.
Glass Jar Lanterns: Get imaginative with your Diwali house decor by incorporating glass jar lanterns. You can create your lanterns using empty glass jars and unleash your creative side by painting and carving intricate designs on them. These jars can house little artificial lights, fairy lights, or tiny diyas, adding a charming and personal touch to your balcony decor.
ALSO READ: Dhanteras 2023: Glance at date, history and significance of this auspicious festival
As the festival of Diwali approaches, these creative ideas will not only brighten your spirits but also spread positive energy among those who witness your beautifully decorated home and public spaces. So, embrace the essence of Diwali and let the festival of lights shine brightly in your surroundings.
Last Updated Nov 8, 2023, 6:24 PM IST