7 tasty snacks from Tamil Nadu to savor during monsoon seasons
Indulge in the flavors of Tamil Nadu with these 7 delicious snacks to enjoy during the monsoon season. From crispy masala vada to spicy onion pakoda, these South Indian treats are perfect for rainy days. Discover the best Tamil Nadu monsoon snacks and savor the blend of spices and textures that will satisfy your cravings.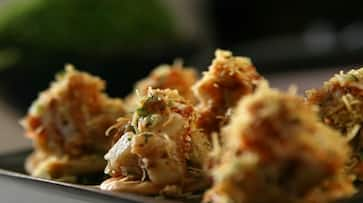 As the monsoon season arrives in Tamil Nadu, it brings with it a craving for warm and delicious snacks. Tamil Nadu is known for its rich culinary heritage, and its snacks are no exception. From crispy vadas to spicy pakoras, these snacks perfectly complement the rainy weather. In this article, we will explore seven mouthwatering Tamil Nadu snacks that are a must-try during the monsoon season.
1. Masala Vada:
Masala vada, also known as paruppu vadai, is a popular snack made from a combination of lentils and spices. These deep-fried fritters have a crispy texture on the outside and a soft, flavorful interior. The aromatic blend of chilies, ginger, and curry leaves makes it an irresistible treat.
7 delectable Kerala monsoon snacks to savour during rainy days
2. Onion Pakoda:
Onion pakoda, or vengaya pakoda, is a classic Tamil Nadu snack enjoyed by people of all ages. Sliced onions are coated in a gram flour batter, seasoned with spices, and deep-fried until golden brown. The crispy and savory pakodas are best enjoyed with a cup of hot tea on a rainy day.
3. Bajji:
Bajji is a versatile snack that comes in various forms, including banana, onion, and mirchi bajji. Vegetables are dipped in a spiced gram flour batter and fried until they turn crispy and golden. The combination of the crisp coating and the soft, flavorful filling is a delight to the taste buds.
4. Medhu Vada:
Medhu vada is a South Indian snack made from urad dal batter. These round, doughnut-shaped fritters have a golden-brown exterior and a fluffy, spongy texture inside. Medhu vadas are often served with coconut chutney and sambar, making them a popular breakfast option during the monsoons.
From Mangalore Bajji to Maddur Vada, 7 delicious Karnataka snacks to savour during monsoons
5. Paniyaram:
Paniyaram is a unique snack made from fermented rice and lentil batter. The batter is poured into a special paniyaram pan with small, round molds and cooked until they become crispy on the outside and soft on the inside. These bite-sized delights are perfect for munching on a rainy day.
6. Masala Pori:
Masala pori, also known as masala murukku, is a crunchy and spicy snack made from puffed rice and spices. The puffed rice is seasoned with a flavorful blend of spices, including chili powder, turmeric, and curry leaves. It is a popular street food snack that is both addictive and satisfying.
7. Thattai:
Thattai is a traditional Tamil Nadu snack made from rice flour, urad dal flour, and spices. The dough is shaped into flat, crispy discs and deep-fried until golden and crunchy. Thattai has a unique blend of flavors with hints of sesame seeds, chili powder, and asafoetida, making it a must-try snack during the monsoons.
Taj Mahal to Jhansi Fort: 10 historical gems of UP
Last Updated Jul 3, 2023, 7:45 PM IST