5 tasty Side Dishes that are perfect with Curd Rice
Curd rice, a popular South Indian dish, is both cooling and satisfying. It's often enjoyed with a variety of side dishes that complement its flavours. Here are five side dishes to pair with your curd rice with.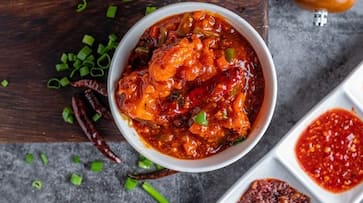 Everybody has their own way of enjoying their bowl of curd rice. Some love it with a side of pickle, while some eat it along with podi, papad, or even cucumbers. You can serve it with a simple yet refreshing vegetable salad and enjoy the meal. You can also enjoy your curd rice along with some kebabs or chicken. Curd rice is also known as yoghurt rice (dahi chawal). It is a popular South Indian dish made from cooked rice mixed with yoghurt and often seasoned with spices and herbs.
ALSO READ: Mint Vs Coriander: Which one is healthier and know their nutrition facts
Here are 5 tasty side dishes that pair well with curd rice:
1. Pickle:
South Indian mango pickle or lemon pickle adds a burst of tangy and spicy flavours to the creamy curd rice. The combination of the two is a classic favourite.
2. Crispy Papad:
Papad, a thin, crispy flatbread, is commonly served alongside curd rice. Its crunchiness provides a delightful contrast to the soft and creamy texture of the rice.
3. Thayir Pachadi:
Thayir pachadi is a yoghurt-based side dish that complements curd rice perfectly. It's made by mixing yoghurt with vegetables like cucumber, carrot, or boondi (crispy chickpea flour balls). Seasoned with mustard seeds, curry leaves, and a touch of spice, it adds freshness and texture to the meal.
4. Coconut Chutney:
Coconut chutney, especially one made with fresh coconut, green chillies, and a hint of mint or coriander, can be a cooling and flavorful accompaniment to curd rice.
5. Crispy Fried Curd Chillies:
Mild green or red chillies, dipped in a gram flour batter and deep-fried until crispy, make for a spicy and crunchy side dish. The heat from the chillies pairs well with the coolness of the curd rice.
ALSO READ: Health Benefits of Kantola: From Heart Health to Skin Vitality, discover this nutrient-packed vegetable
Last Updated Sep 1, 2023, 6:10 PM IST