5 astonishing benefits of Juicy fruit Apples on your Skin
Well, we know the popular maxim that an apple a day keeps the doctor away. But apart from health benefits, apples are also a powerhouse of skin care benefits which are plenty and are a juicy bounty filled with many skin hacks.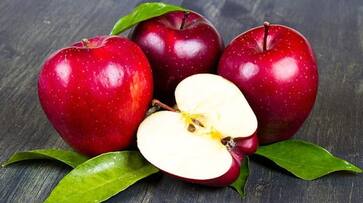 Eating apples can help not only with brightening up your skin but also lightening its colour because they provide a little protection against tanning. The collagen and the elastic in the apples are vital for keeping the skin youthful. The nutrients of the fruit work effectively to benefit your skin by getting rid of the pathogens and the excess oils. It can soothe the skin and lead to rosy cheeks. Apart from that, applying apple juice will also work for lightening your oily skin. The juice will firm up the skin and help maintain the skin's natural pH balance. Apply apple juice daily to your face, and if you can't lay your hands on a cup of fresh juice, just take a juicy slice rub it all over your face, and eat the rest of the fruit.
ALSO READ: 5 reasons why too much Lemon Water is health danger
Here are 5 skin benefits of Apples:
1. Hydration:
Apples are composed of over 85% water, which helps keep your skin hydrated. Proper hydration is essential for maintaining soft, supple skin and preventing dryness and flakiness.
2. Antioxidants:
Apples are rich in antioxidants like vitamin C, which can help protect your skin from oxidative stress caused by free radicals. This can slow down the signs of ageing, such as wrinkles and fine lines.
3. Skin Brightening:
The natural acids in apples, particularly malic acid, can help exfoliate the skin gently. This can lead to a brighter complexion and may even help fade dark spots or pigmentation over time.
4. Acne Prevention:
Apples contain compounds that may help regulate sebum production, reducing the likelihood of clogged pores and acne breakouts. The fruit's fibre content also aids in detoxifying the body, potentially reducing the occurrence of acne.
5. UV Protection:
While not a substitute for sunscreen, the antioxidants in apples may provide some protection against UV radiation. Incorporating apples into your diet, along with using sunscreen, can help shield your skin from the sun's harmful effects.
ALSO READ: Health: 5 ways how Ginger can be beneficial for your body
Last Updated Sep 4, 2023, 8:46 PM IST