Woman stripped naked to protest traditional Christmas dinner
To make the scene more realistic the girl poured gravy all over her
Similar protest was staged in Manchester, Birmingham and Newcastle
PETA wants people to go vegan this Christmas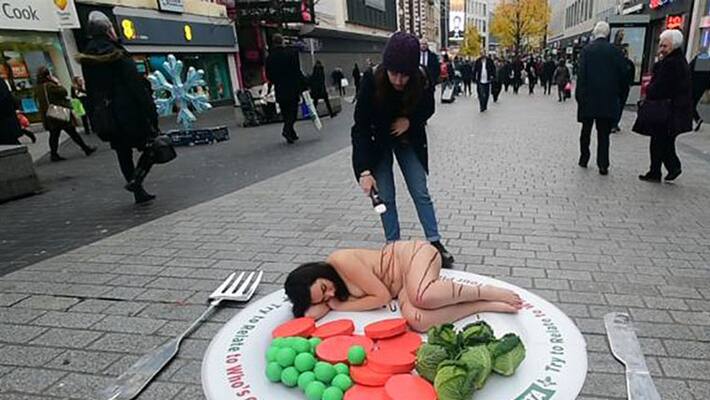 Christmas is around the corner, and all are getting ready for a family dinner. And how will you celebrate without the most important dish - Christmas turkey. 
 
However, Liverpool witnessed a bizarre protest against this age-old tradition. A large plate was placed at the City Centre with a six foot fork and knife on either side. On the plate, there were peas, sprouts, carrots and a turkey to the size of a man!
 
The giant turkey was a woman who had stripped completely naked and had curled into the shape of a whole turkey with streaks of gravy poured all over her!
 
The protest was organised by animal rights group PETA and similar stunt was staged in Manchester, Birmingham and Newcastle urging people to go vegan this Christmas. The move aimed to evoke empathy in the minds of people towards animals that are being killed to make people's festive fare. 
Last Updated Mar 31, 2018, 6:59 PM IST