Twitter explodes as 'Modi shoots tiger'
PM turns wildlife photographer at Nandan Van Jungle Safari in Chhattisgarh's new capital Naya Raipur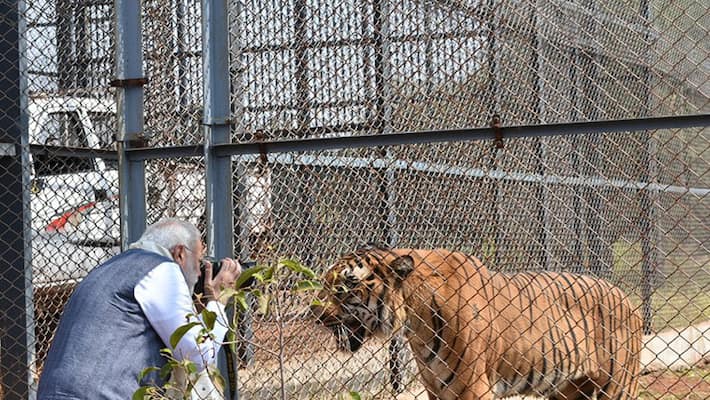 A photo of Prime Minister Narendra Modi taking a photo of a tiger has gone viral. This viral photo of Modi taking a close-up of a caged tiger was taken at the Nandan Van Jungle Safari in Chhattisgarh's new capital Naya Raipur. He was seen taking a photo of the tiger with a DLSR.   

Modi was on a visit to Chhattisgarh to discuss with Chhattisgarh Chief Minister Raman Singh to discuss business on capital investments and several other government schemes, whilst tweeting that the state of Chhattisgarh offered  good opportunity for investors.
Modi also remembered the contributions of former Prime Minister Atal Bihari Vajpayee whose tenure in 2000 saw the creation of Chhattisgarh.
 
Besides this, Modi also appreciated the development of Nandan Van Jungle Safari which is spread across 800 acres approximately. 
And here is how Twitter reacted: 
PM Modi Collecting Evidence Of His Zoo Visit In Raipur. Just In Case Kejriwal Asks For It Tomorrow. #PMatNayaRaipur
pic.twitter.com/qQVuiK6yKt

— Sir Ravindra Jadeja (@SirJadeja) 1 November 2016
Copying Nehru, really??!!
After stealing Nehru's jacket, PM Narendra Modi trying to copy his lifestyle now by clicking picture of Nehru's pet tiger. (2016) pic.twitter.com/mDLbjxARcI

— History of India (@RealHistoryPic) 1 November 2016
This was epic!!
Will the blood thirst ever end? Modi shooting an unarmed tiger after killing 8 peaceful people in cold blood! @IndiaFinger @TrollKejri pic.twitter.com/kHfsE6YiPi

— Shantanu S Chauhan (@mobileyoga) 1 November 2016
Last Updated Mar 31, 2018, 6:45 PM IST