This Winter make sure you prepare in advance for your Europe trip
Sicily and Italy are two fabulous places that you could tick off this year end
Here's a low down on how to go about planning your trip
As House Stark says, "Winter is coming". Well, so is the most beautiful time of the year. Although I am not a huge fan of cold, dark and depressing weather, a trip to Europe is enough to make me ignore my whining skeletal framework. Yes! This December it is going to be Italy and Sicily!I know… I just said that I couldn't care less about winter. But the perks of winter travel can be pretty alluring – especially if you're on a budget. The cost of airfare, accommodation, and even tour tickets can be reduced in the winter – often by a substantial margin. Crowds aren't as thick, and lines aren't as long. You may still want to book things like Uffizi or Vatican Museums tickets ahead of time, but if you're making plans as you go you won't usually need to wait in line long for those or other top museums in Italy if you're there in the winter.
Nevertheless, it is a very good idea to find out when Carnevale and other winter holidays and festivals are before you make your plans so you can avoid anything you want to.
Having said that, here is a low down on things that might help you if you are planning a trip to Italy and Sicily.
When to go?
Low Season (Nov–Mar): Prices up to 30% less than in high season. Many sights and hotels closed in coastal and mountainous areas. A good period for cultural events in large cities.
Shoulder (Apr–Jun & Sep–Oct): Good deals on accommodation, especially in the south. Spring is best for festivals, flowers and local produce. Autumn provides warm weather and the grape harvest.
High Season (Jul–Aug): Queues at big sights and on the road, especially in August. Prices also rocket for Christmas, New Year and Easter. Late December to March is high season in the Alps and Dolomites
What to pack?
Appearances matter in fashion-conscious Italy. That said, you'll have to dress comfortably for sightseeing because you'll be walking a lot. Practical shoes are necessary, as cobblestoned streets play havoc with heels and ankles. For the evening, smart casual is the way to go.
At big religious sites, dress codes are strictly enforced. If you want to get into St Peter's Basilica or St Mark's in Venice, play it safe and cover your knees and shoulders.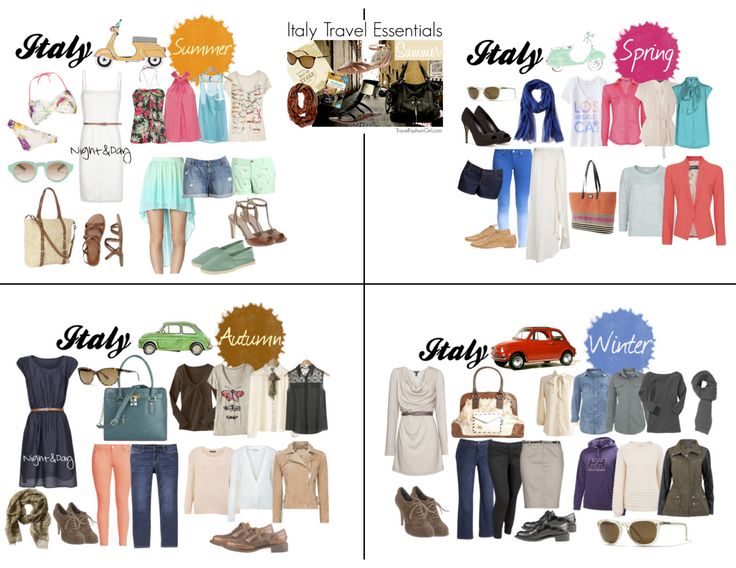 How much does it cost?
Budget

Midrange

Top end

€100

€100 – 250

€250 and above

Dorm bed: €20–35
Double room in a budget hotel: €60–130
Pizza or pasta: €6–12

 

Double room in a hotel: €110–200
Local restaurant dinner: €25–45
Admission to museum: €4–15

Double room in a four- or five-star hotel: €200 plus
Top restaurant dinner: €45–150
Opera ticket: €40–210
*Please note that these are approximate rates and may vary.
Tipping
Italians are not big tippers. Following is a rough guide:
Taxis Optional, but most people round up to the nearest euro.
Hotels Tip porters about €5 at high-end hotels.
Restaurants Service (servizio) is generally included in restaurants – if it's not, a euro or two is fine in pizzerias, 10% in restaurants.
Bars Optional, though many Italians leave small change on the bar when ordering coffee (usually €0.10 per coffee). If drinks are brought to your table, a small tip is generally appreciated.
While credit cards are widely accepted in hotels, restaurants, shops and autostrada tollbooths, Italy hasn't entirely gone plastic. You can't always rely on cards in museum ticket offices, and some smaller trattorias, shops and pizzerias only take cash.
ATMs (known in Italian as bancomat) are everywhere and most will accept cards tied to the Visa, MasterCard, Cirrus and Maestro systems.
What to eat?
Italians generally eat late, so if you want to fit in, stop for lunch at around 1.30pm and dinner at 8.30 to 9pm – the further south you go, the later they eat.
A full Italian meal consists of an antipasto, a primo (usually pasta or risotto), secondo (main course, typically fish or meat), contorno (side dish), and dolce (dessert). You're not expected to eat all that, so feel free to mix 'n' match when ordering.
Stopping at a cafe for a quick coffee is one of the great rituals of Italian life. To do it like a local, first pay at the cash register, then, armed with your receipt, give the barista your order. When it arrives, drink standing at the bar - sitting at a table is fine but takes longer and costs more.
Cappuccinos are popular for breakfast and are often paired with a fresh cornetto (an Italian croissant). They are never drunk later than mid-morning.
Never eat bread with pasta, though it's OK to wipe up any leftover sauce with it. Drink wine with pasta and beer with pizzas. It's fine to eat pizza with your hands.
TRAVEL TIP: Traditionally, Italian shops have an afternoon break, typically closing between 1pm and 4pm. They'll then re-open until around 8pm.
How to go around?
Most Italian cities can be explored on foot, but you'll inevitably need to use public transport at some point. Tickets, which must be bought from a tabaccaio or street kiosk and validated once on board, are generally valid for a set time period. In Rome, for example, a single €1.50 ticket is valid for 100 minutes. During that time, you can use as many trams and buses as you like and take one metro journey.
If you're staying in a city for several days, a travel pass will probably save you money. In Venice, a single journey on a vaporetto(water bus) costs an eye-watering €7.50, but various passes are available, starting at €20 for 24 hours.
Now that we have covered the basics, here is a sample 2-week itinerary that you might take inspiration from. However, please remember that 2 weeks is a very short time to see everything in Italy and Sicily. I am highlighting here the places that I am planning and a few extra tips!
2 WEEKS IN ITALY & SICILY:
The Holy Trinity – Rome, Venice, Florence (and more!)
TRAVEL TIP: For top sights like the Colosseum and Vatican Museums in Rome or Florence's Galleria degli Uffizi and Galleriedell'Accademia, entrance queues are the norm. You can cut waiting time by booking tickets online. Alternatively, try to arrive first thing in the morning or late afternoon when the queues have died down. In the case of the Vatican Museums, Tuesdays and Thursdays are the quietest days.
Museum opening times vary, but many are closed on Mondays. Also, state museums are free on the first Sunday of each month.
Rome & The Vatican (1 night)
Sightseeing:
Vatican Museums
Roman Forum
St. Peter's Bascilica
Palatino
Colosseum
Capitoline Museums
Pantheon
Basilica di San Giovanni in Laterano
Trevi Fountain
Piazza di Spagna& the Spanish Steps
Villa Medici
Florence (2 nights)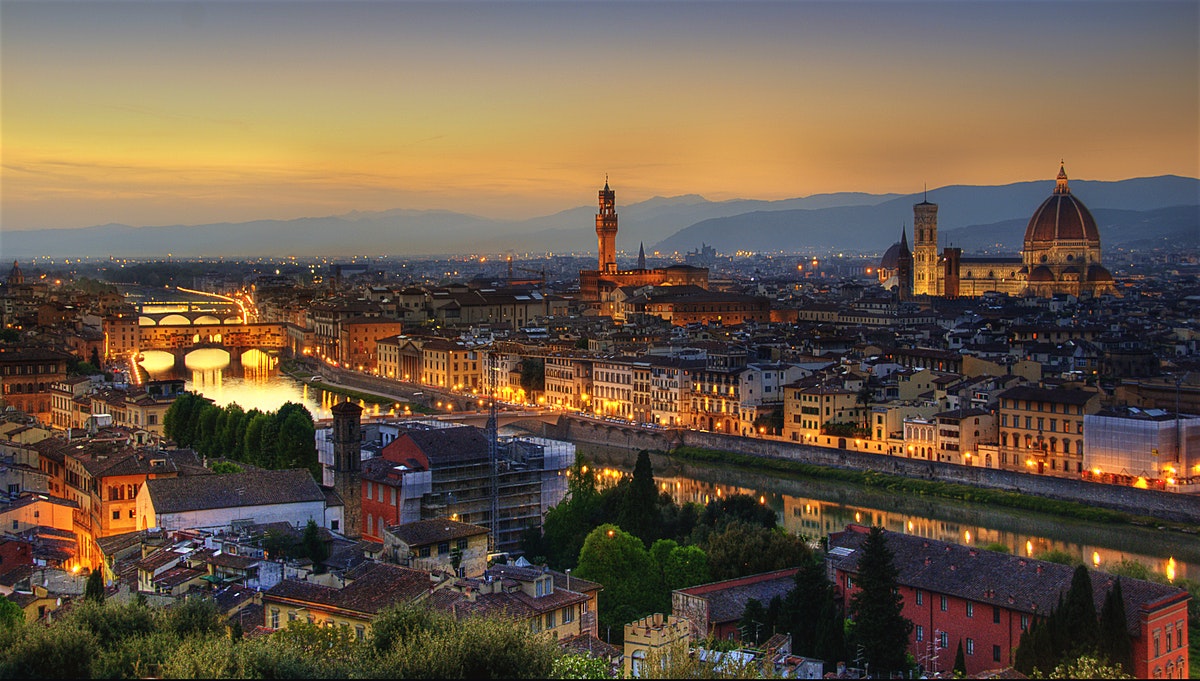 Sightseeing:
Galleria degli Uffizi
Basilica di Santa Maria Novella
Palazzo Vecchio
Museo di San Marco
Duomo
Grande Museo del Duomo
Cupola del Brunelleschi
Galleria dell'Accademia
Day trips from Florence –
Getting there -Bus (2 hr), Car (2 hrs) or Private Tour
TRAVEL TIP: The Cinque Terre day trips starts early since the meet-up point by the Santa Maria Novella train station is around 6:40am to head out of Florence by 7am. The grand tour bus is faster than traveling by train (it cuts at least an hour but more often a full hour and a half from your travel time. Trains take longer because they often require 1, if not 2, train changes between Florence and the Cinque Terre). 
Getting there - Bus (80 min), Car (80 min) or Bike Tour
Getting there - Bus (2 hr) or Car (60-80 min)
TRAVEL TIP: You could combine Siena and San Gimignano into a 1 day tour.
Getting there - Train (1 hr & 15 min), Car (1 hr) or Combine Lucca & Pisa Tour
Getting there - Train (45-60 min) or Car (70 min)
Venice (1 night)
Sightseeing:
Basilica di San Marco
Palazzo Ducale
Scuola Grande di San Rocco
I Frari
The Ghetto
Peggy Guggenheim Collection
Basilica di Santa Maria della Salute
Day trips from Venice –
Getting there – Train (2 hours or less)
Getting there – Train (2 hours or less)
Getting there – Train (2 hours or less)
Getting there – Train (2-4 hours)
TRAVEL TIP: Even though Verona is a longer trip, I would recommend going there. Verona is widely considered one of the most romantic cities in Italy and the best day trip from Venice, thanks to its role as the backdrop for Shakespeare's Romeo and Juliet.
Getting there – Train (4 hours or more)
Getting there – Train (4 hours or more)
Naples (3 nights)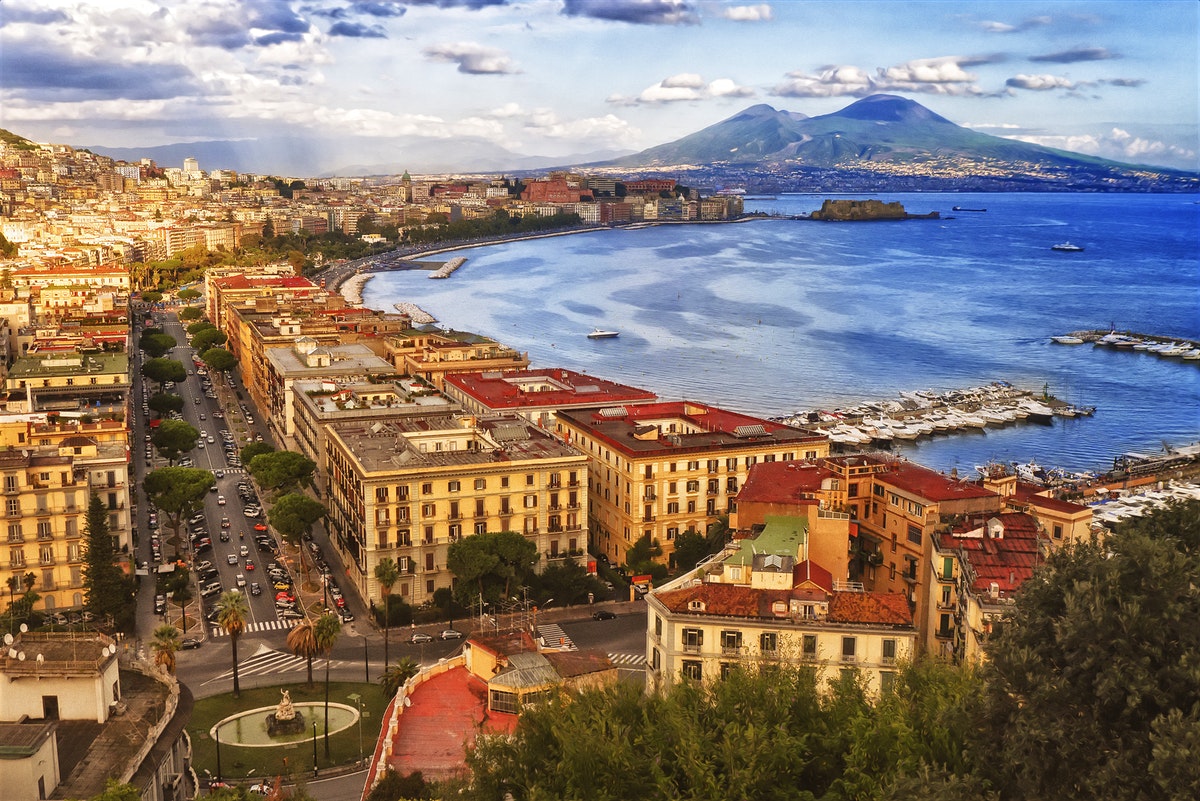 Sightseeing:
Museo Archeologico Nazionale
Palazzo Reale di Capodimonte
Cappella Sansevero
Certosa e Museo di San Martino
Catacombe di San Gennaro
Palazzo Reale
Duomo
ComplessoMonumentale di Santa Chiara
Day trips from Naples –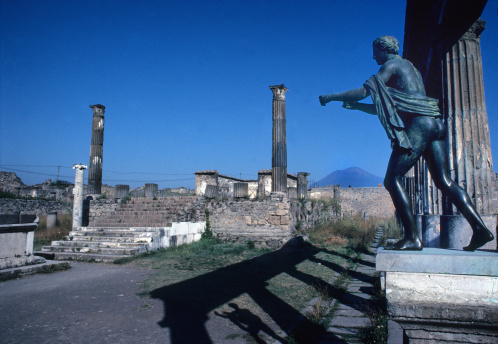 A morning hike up Mt Vesuvius, the volatile volcano that entombed the ancient Roman city of Pompeii in 79 AD, is classic Neapolitan adventure. The 30-minute ascent along a steep gravel path is suitable for most fitness levels. Peering inside the crater, you won't see any gurgling lava, but your efforts will be rewarded with stunning views across the Bay of Naples.
Spend the rest of the day exploring the mammoth Unesco World Heritage Site of Pompeii. Don't miss the Forum, with its chilling Vesuvian view, the vibrantly restored Dionysus fresco at the Villa of the Mysteries, the co-ed Stabian baths, the 2nd-century BC House of the Faun and the ancient stone Amphitheatre.
TRAVEL TIP: Make sure that you thoroughly research about this trek – what to wear, who can do this trek and who can't, medical eligibility, child friendliness, etc before booking a trek to Mt. Vesuvius.
Getting there: Take the EAV bus (eavsrl.it) from Naples to Vesuvius and back to Pompeii. Return to Naples on the Circumvesuviana or seasonal Campania Express train.
Getting there: take a high-speed hydrofoil from Naples' Molo Beverello port or a slower (and more scenic) ferry from Porta di Massa.
Getting there: Come on the Circumvesuviana and seasonal Campania Express trains from Naples, by ferry from Naples' Molo Beverello port. From Naples Capodichino Airport take the CurreriViaggi bus.
CampiFlegrei, Solfatara Crater and Flavian Amphitheatre.
Getting there: the Solfatara Crater and Flavian Amphitheatre sites in Pozzuoli can be reached on Naples Metro Line 2 or the Cumana train. The rest of the CampiFlegrei is quite spread out and not well served by public transport. Fixed rate taxi fares are available for Baia and Cuma. Hiring a car or driver would be another option.
Naples also offers a whole range of exciting adventures that will take you back in time. Choose from WWII air raid shelter in Napoli Sotterranea, cavernous 17th-century cistern at Bourbon Tunnel, the Greco-Roman city of Neapolis, ancient-Greek tombs at the Necropolis of Neapolis and the San Gennaro Catacombs, Dominican death rituals at the San Gaudioso Catacombs, Santa Maria of the Souls of Purgatory and for those of you who love art, the Toledo Metro Art Station and the Università Metro Art Station are must visits!
Driving through Italy… Road Trip!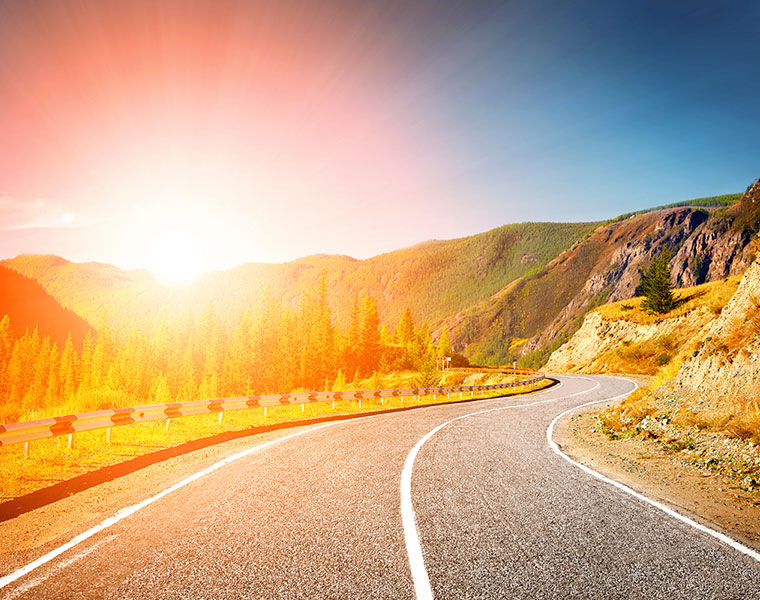 Few countries can rival Italy's wealth of riches. Its historic cities boast iconic monuments and masterpieces at every turn, its food is imitated the world over and its landscape is a majestic patchwork of snow-capped peaks, plunging coastlines, lakes and remote valleys. And with many thrilling roads to explore, it offers plenty of epic driving.
Recommended trip: World Heritage wonders – 14 days, 870 km/540 miles
Start – Rome; finish – Venice
From Rome to Venice, this tour of Unesco World Heritage Sites takes in some of Italy's greatest hits, including the Colosseum and the Leaning Tower of Pisa, and some lesser-known treasures.
Sicily
When it comes to Sicily, you have a wide range of activities and sights to choose from. Whether you're looking for a single day hike or a whole vacation's worth of walking, you'll find it here. To avoid heat, crowds, and high prices, come in spring (April–June) or early autumn (September–October).
7 nights in Sicily (Off the beaten track): The Seven Islands of the Aeolian archipelago
1. Lipari: Explore the island's ancient citadel and wild shoreline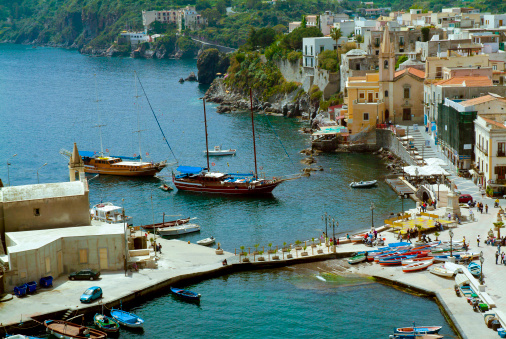 Start your adventure in Lipari, the most populous of the Aeolian Islands.
Start: Pianoconte | End: Quattropani | Length: 8km | Duration: four hours | Difficulty: moderate-demanding
2. Vulcano: Climb the crater, kayak the coast, and take a mudbath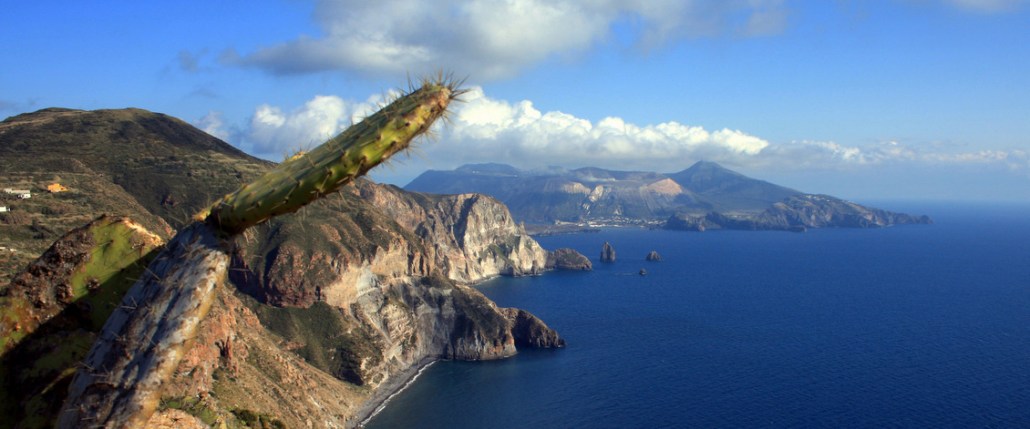 Mythologized by the ancient Romans as the site of Vulcan's forge, it still exerts an irresistible allure. Back down by the waterfront, Sicily in Kayak offers opportunities to explore Vulcano's precipitous shoreline, paddling into secluded coves below the main volcano and its baby brother Vulcanello. 
Start/End: Vulcano port | Length: 4km | Duration: two to three hours (return) | Difficulty: moderate
3. Panarea: Beach-hopping and Bronze Age history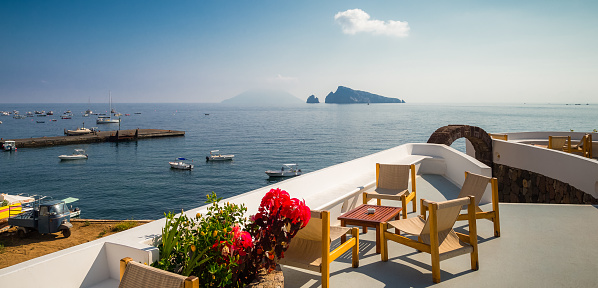 A year-round highlight is the coastal stroll to Punta Milazzese, where you'll find the spectral stone foundations of the Villaggio Preistorico, a Bronze Age settlement perched on a picturesque headland.
4. Stromboli: Fall under the spell of the Aeolians' most active volcano
Witnessing Stromboli's pyrotechnics first-hand is one of the Aeolians' peak experiences. Those disinclined to climb can enjoy equally dramatic views on an evening cruise along the coast to the Sciara del Fuoco, a 1km-swath of gray volcanic debris directly below the craters; boats set anchor here to watch red-hot rocks tumbling down the mountainside and crashing into the waters below.
Start/End: Stromboli town | Length: 8km | Duration: five to six hours | Difficulty: moderate-demanding
5. Salina: Wine-tasting, spa treatments and sunset views
Begin your visit in the countryside around Malfa, where a handful of wineries invite visitors to taste locally grown Malvasia, Salina's renowned honey-sweet white wine. Afterwards, head for Signum Spa, a peaceful spa immersed in lemon trees and Sicilian tiles.
Start/End: Valdichiesa | Length: 4km | Duration: three hours | Difficulty: moderate-demanding
6. Filicudi: Explore sea caves and ancient shipwrecks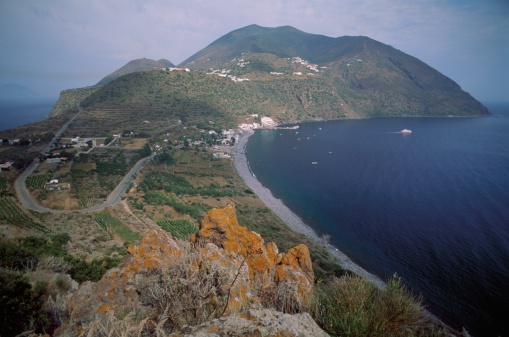 In 2008, Filicudi's collection of shipwrecks was protected as an underwater archaeological park, allowing divers to enter this world of ancient Greek anchors, lost cargoes and vessels buried in sand. Non-divers will have almost as much fun circumnavigating Filicudi on a boat tour
7. Alicudi: Mediterranean living at a mule's pace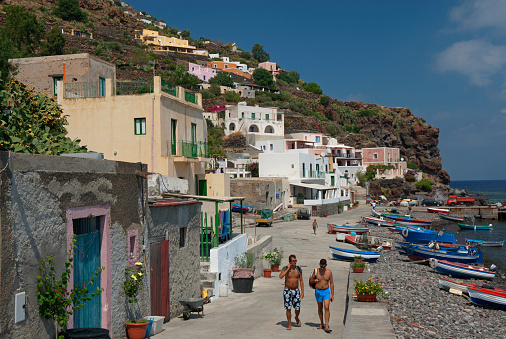 The island's quintessential adventure is the trek to Filo dell'Arpa, the long-dormant cone that towers above Alicudi's lone fishing village.
For those of you who may not have a week to spare in Sicily, but have a few days there, here is what you could plan:
Scale the highest active volcano in Europe: Mt. Etna:
At a height of 3,340 meters above sea level Mt. Etna is now a UNESCO World Heritage Site.Whenever you decide to travel Etna always waits for you, snow-covered in winter, wild or lush throughout the whole year.
Particulars

Short Trek

Long Trek

 

 

Trek Description

From Rifugio with Funivia (cable car) + jeep to the summit , then a 40 minute hike with a guide to a low crater. Jeep comes with a mandatory guide.

 

Same as above, however, instead of a short hike, you will be doing a 4 -5 hour trek. There are no reservations. You will have to buy the tickets at the Mountain Station.

 

 

 

Trek Details

Total time: 2 – 2.5 hours

Start time: throughout the day

Tickets: At Rifugio and Mountain Station

Price: Funivia (€30) + Jeep (€33)

Difficulty: Very easy

Craters: Old craters (last eruption 2002)

Total time: 5 - 6 hours

Start time: Only once a day at 10:30am (you need to be there by 9:00 am sharp)

Tickets: At Rifugio and Mountain Station

Price: Total €70

Difficulty: Moderately strenuous

Craters: Active craters (recent eruption)
However, if you think that the only thing that can be done at Etna is conquering its summit, you are in for a surprise… the good kind! Here are a few other things that you can enjoy while you are the volcano, especially if you want to avoid trekking up the slopes.
The Etna jeep tour: If you prefer to enjoy an organized Etna excursion by jeep you can contact Etna Moving by Marco and Fabrizio. There are several tours that often include a visit to the Cassone cave (you'll wear huts and you'll use torches) and also off the beaten tracks in the woods. You can choose among half days, full days and trekking tours. Etna by jeep is ideal for adventure lovers and for all people who love to explore the woods.
Missing those adventure parks? Look no further! Parco Avventuradell'Etna (Etna Adventure Park) is at your service. There are 11 trails, 5 for children and 6 adults + 2 climbing walls, with and without harness. Focus on Full or Full + climbing which cost €18 and €20respectively.
Glide through the snow-clad slopes of Etna: The cable car is located at 1,900 metres. You can reach the Montagnola where there are ski resorts in winter. There are 6 ski-runs (2 Amphitheatre – 1 Monte Conca (high) – 1 Coccinelle – Monte Conca (low) – Baby/Tanaurpi that allows you to ski in the woods). One-day skypass is about €28 per adult and €16 for children aged from 4 to 10 years. There are different rates according to your needs. There is also a half day skipass.
Cosy up in a chalet.There is a lovely residence in Mount Etna, Residence Serra La Nave, which is very close to Rifugio Sapienza, the Astronomical Observatory and woods. Rooms are clean and they all have a fireplace. There are also many chalets you can rent. I also suggest Etna Chalet Milo, very cute chalets in Milo, surrounded by woods and with the Etna view, but they are far about 22 km from Etna.
Getting there 
By car. If you are in Catania follow signs to Nicolosi, Etna Sud;
By bus. Catch the AST Autolinea Bus which leaves from Piazza Papa Giovanni XXIII at 8.15 and leaves from Etna at 16.30. The ticket is about €10 round trip.
TRAVEL TIP: Etna's summit can be cold and windy, and there's already some snow at the summit.
Dress in layers – warm clothes, windbreakers; high, warm socks; trekking boots or very sturdy shoes; scarf (protection from fumes); hats; a light weight rain coat and gloves. Bring sunglasses, sunscreen, water, and snacks.
The southern starting point for climbing Mt. Etna, Rifugio Sapienza, is where you can find a guide andget a quick bite to eat.  This area has several guide options.
Remember – there are no bathrooms on the mountain.
IMPORTANT - Travel insurance: Make sure that you have a comprehensive travel insurance to cover theft, loss and medical problems.Some policies specifically exclude dangerous activities such as scuba diving, motorcycling, skiing and even trekking: read the fine print.
You can also book a night eruption tour online in advance. This tour takes you to Mt. Etna at night during an eruption. Do not forget your camera!
I hope this article was helpful. Do let us know if you have been to other exciting cities in Italy and or Sicily. We would love to hear from you!
Deea is an Influencer Marketer, content creator, traveller, photographer and blogger.