'What happened to my son?' Flight Lt Achudev's father demands truth, justice
S Achudev, 25, was one of the two Indian Air Force pilots killed in the Sukhoi-30 crash approximately 60 km north of Tezpur on May 23
The family alleged that the IAF sent an empty coffin to the family under the pretext of sending the mortal remains of the fighter pilot
Retired ISRO scientist VP Sahadevan said their agony over the loss of their son continued since they could not perform his funeral rites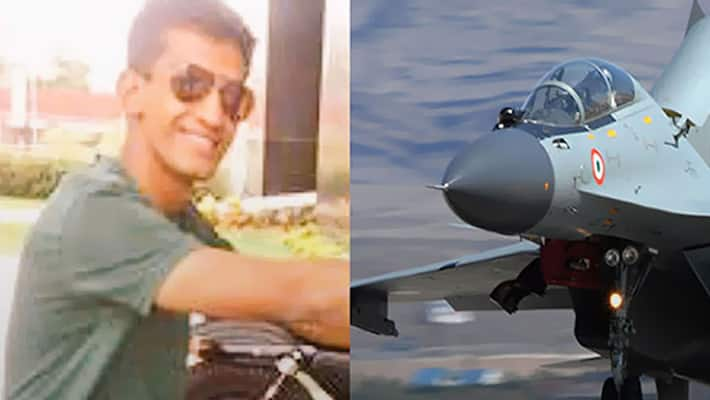 Four months after flight lieutenant S Achudev's death in a fighter jet crash, his parents have urged new defence minister Nirmala Sitharaman for a CBI probe to bring out the truth behind the mishap.
Achudev, 25, was one of the two Indian Air Force (IAF) pilots killed in the Sukhoi-30 crash approximately 60 km north of Tezpur on May 23. The family alleged that the IAF sent an empty coffin to the family under the pretext of sending the mortal remains of the fighter pilot. 
Sukhoi-30 jet crash: IAF sent empty coffin to family of Flt Lt Achudev
Achudev's father and retired ISRO scientist VP Sahadevan said their agony over the loss of their son continued since they could not perform his funeral rites as the mortal remains had not yet been received by the family.
"It's going to be five months since we lost our son. We request authorities to give us evidence in the case - the conversation between my son and air traffic controller, where the aircraft was last seen, and details of items recovered from the crash scene. This is our right. Moreover, we continue to believe he is missing since we have not got his mortal remains," IANS quoted the father as saying.
Sahadevan said he had raised a demand for a CBI probe in June and he reiterated the same to the new defence minister in his letter. "She is also a mother. We want justice and we want our demands to be met. So, we have written again to the new minister. My wife has still not recovered from the incident," he pointed out.
Sahadevan claimed he was handed over an empty coffin on June 2, which he took to the state capital. Next day, the body was taken to his ancestral home in Kozhikode and conducted the funeral ceremony.
IAF Sukhoi jet: Keralite among missing pilots
Tourism minister Kadakampally Surendran also wrote a letter to Sitharaman on Tuesday to ask for speeding up action on the bereaved family's demands. The parents had earlier filed a complaint with Prime Minister Narendra Modi, through Kerala MP A Sampath, and alleged 'mystery' behind the incident.
Flight lieutenant Achudev and squadron leader D Pankaj were onboard the Sukhoi-30 fighter jet which went missing during a routine training mission on May 23 in Doulasang area of Arunachal Pradesh. The plane's wreckage was detected on May 26, following which the IAF declared the two pilots dead.
 
Last Updated Mar 31, 2018, 7:00 PM IST