Anti-CPM comments: Actor Sreenivasan to file police complaint over fake Twitter account
Actor Sreenivasan is planning to complain against fake Twitter account in his name
Several tweets against CPM were tweeted from the account
Sreenivasan said he will file the complaint with IG Manoj Abraham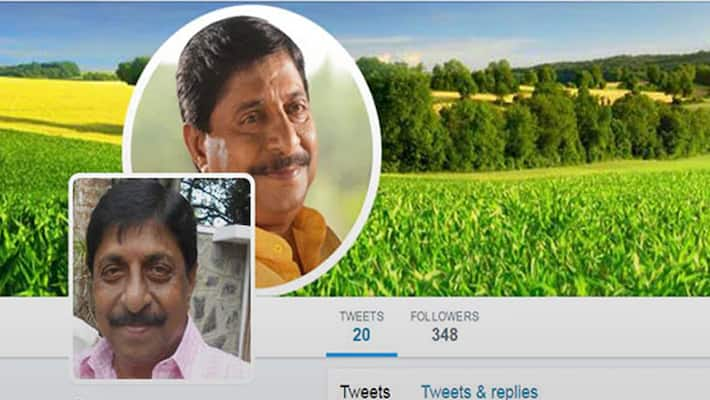 Celebrities falling prey to fake social media accounts is very common these days, and veteran actor-screen writer Sreenivasan has become the latest victim. Several tweets against CPM were going rounds for two days from a fake Twitter account in his name. 
The actor has finally come out in public and has announced that the account is fake and he does not have any Facebook or Twitter handle. "I don't own a social media account and have not asked anyone to manage one for me. My opinions are entirely different from the ones spreading in my name. I am planning to file a police complaint," the actor told Asianetnews.tv. 
Sreenivasan wondered why these people are attacking him and said maybe they have nothing else to do. This is no small issue, and several fake accounts are being reported these days. I am planning to file a complaint with IG Manoj Abraham, he said. 
The actor also stated that this is not the first time that someone has made a fake profile in his name. "Earlier, I had encountered a similar issue, and then the complaint was filed with the then DGP T P Senkumar. However, Kerala police replied that they are helpless as the account was being managed from the US. However, I will go ahead with legal measures," Sreenivasan said. 
The fake account in the name @Sreeni_theActor was deleted after Sreenivasan stated that he is planning to file a police complaint. The Twitter account had tweets against CPM, especially beef issue and several persons had supported him. As many as 20 tweets were there in the account.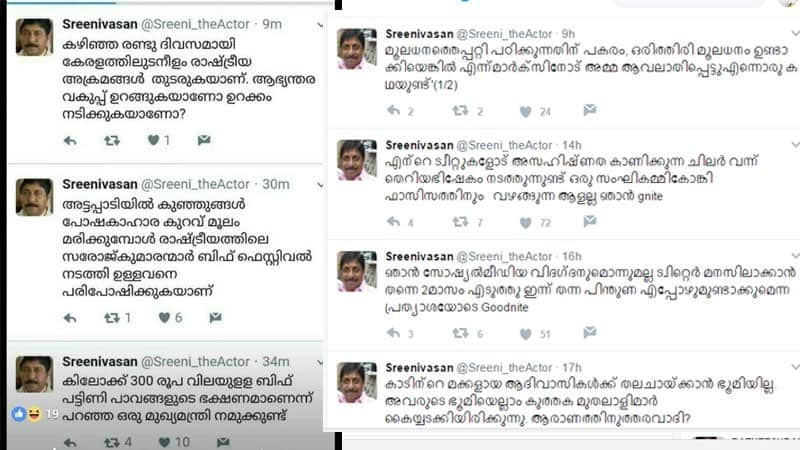 Some of the tweets that appeared on the fake Twitter account (courtesy Southlive)
Here are some tweets supporting the ones that appeared on @Sreeni_theActor. 
Salute your courage in speaking up against the corrupt political establishment of kerala.

— Raj (@RPNK) June 12, 2017
@Sreeni_theActor y r u "misleading the public" with false information. U said CPC membership strength is 4.5mlns, but reality is 88.76mlns.

— Sujith Kumar S (@SujithOnchiyam) June 12, 2017
😂😂😂😂 he's busy in conducting beef festival well said @Sreeni_theActor sir

— Balaji @ Gaarnis (@BalajiCipla1) June 12, 2017
Last Updated Jun 12, 2019, 1:46 PM IST