Kerala mosque issues diktat to boycott family after Muslim girl marries Christian boy
Kunnummel Yusuf agreed to marry off his daughter Jaseela, 26, to a Christian youth named Tiso Thomas
The mahallu committee, urged the locals not to co-operate with Yusuf's family and break off all contact with them
Hundreds of local residents turned up for the reception despite the diktat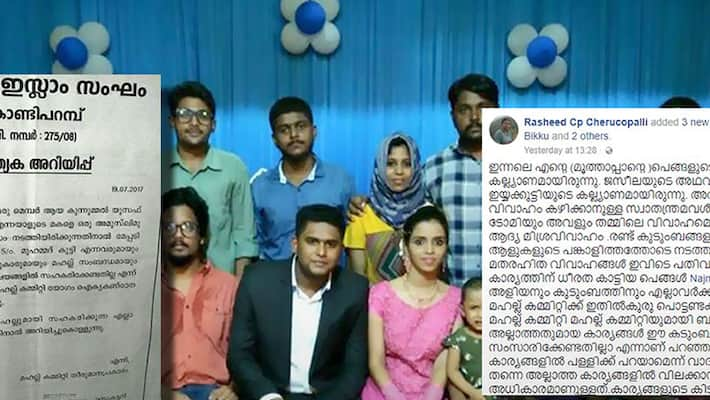 During a time when interfaith marriages are in the spotlight in Kerala, a mosque in Malappuram has courted controversy by issuing a diktat calling for the social boycott of a Muslim family for allowing their daughter to marry a Christian boy she loved.
Madarul Islam Sangham, the mahallu committee, urged the local residents not to co-operate with Kunnummel Yusuf's family and break off all contact with them after he agreed to marry off his daughter Jaseela, 26, to a Christian youth named Tiso Thomas.
Jaseela married Tiso on Friday as per the Special Marriage Act
Yusuf is an assistant executive engineer with the Kerala water authority, while his wife Najma Yusuf is a member of the CPM's Manjeri area committee. Yusuf's father used to be an office-bearer of the mahallu committee.
"Since Yusuf has agreed to marry off his daughter to a non-Muslim, the mahallu committee has decided that people should not cooperate with his family, for both mosque-related or other matters," reads the circular in Malayalam. 
The mahallu   committee circular
The issue snowballed into a controversy after Jaseela's maternal uncle Rasheed Cherucopalli put up a Facebook post explaining the incident, with photos from the reception and an image of the mahallu committee circular. 
The post was widely shared and sparked off several debates on social media, including the alleged hypocrisy of some mahallu committees, which are all for interfaith marriages, provided non-Mulsim is converted. 
Jaseela, herself a member of the DYFI Manjeri block committee, married Tiso on Friday as per the Special Marriage Act. The family also organised a reception in Perinthalmanna on Saturday. Hundreds of local residents turned up for the reception despite the diktat.
Interestingly, the reception was also bereft of any religious practices associated with Islam or Christianity. The bride and groom were also pictured wearing a dress and tuxedo.
Last Updated Mar 31, 2022, 12:35 PM IST