Loan disbursement delay leads to tension in Nimmanapalle MPD office
Delay in disbursement of Corporation loans led to tension in the MPD office in Nimmanapalle
People agitated against the authorities and locked the office room
Three men tried to commit suicide after not receiving proper response from the authorities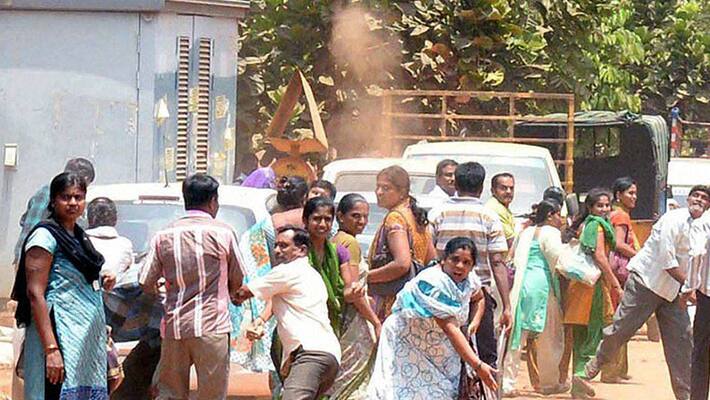 Nimmanapalle village in Chittoor district witnessed high tension on Friday when loan seekers agitated before the local MPDO (Mandal Parishad Development Office) after a delay in disbursement of loans to SC, ST, BC, minority and Kapu corporation.
People agitated before the office and demanded immediate disbursement of loans. Agitators thronged the MPD office from noon to 2:00 pm under the leadership of vice Mandal Praja Parishad (MPP) Etagattu Chandrasekhar and Vaddera Community Nimmanapalle chairman Sudhakar. Madanapalle division Vaddera Community chairman Padmanabha Raju and principal secretary Srinivasulu supported the agitators.
Angry with the office and bank authorities over the delay, local vice MPP Chandrasekhar, Narayana from Kondaiahgaripalle and Venkataramana from Agraharam Bandamidamalapalle tried to commit suicide on the MPD office premises.
Local SI Hariprasad and Bank Manager Venugopal tried to pacify the agitators. They promised to meet and discuss with the MPDO, local representatives and caste communities on Saturday and disburse the loans to the qualified. This satisfied the agitators who ended the agitation. This agitation was supported by political leaders and representatives of peoples organisations'.  
 
Last Updated Mar 31, 2018, 6:40 PM IST