Legally Yours: How can Kerala HC nullify an adult marriage, force her to stay with parents?
Is the Kerala Court legally and constitutionally right in refusing Hadia her rights?
Hadia has not married under the Special Marriages Act then how can the marriage be nullified?
If peahens are being impregnated by tears then by virtue of that the Kerala High Court has only done this much!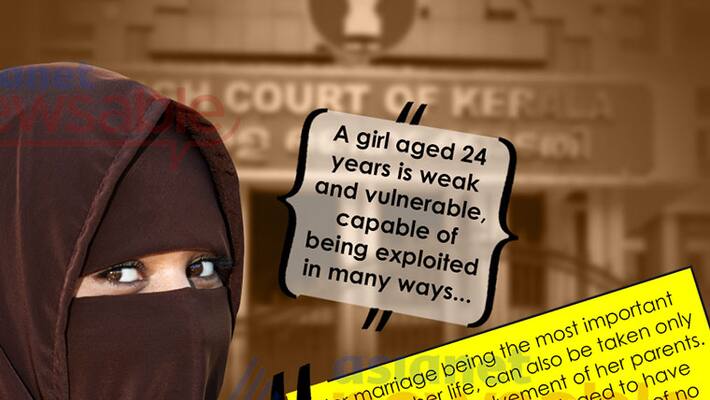 The Kerala High Court bench of Justices Surendra Mohan and Mary Joseph ordered Hadia to return to her parent's home. The Kerala High Court declared marriage of Akhila alias Hadia with Shafin Jahan, a native of Kollam "null and void" on the grounds that bride's parents were "not present or given consent" for the marriage and that there was an intention of forcible conversion present.
Not only did the court mention 'forcible conversion' but also fears were expressed that Hadia's marriage presents the danger of love-jihad and recruitment to the Islamic State and migration to Syria.
Here are some pertinent excerpts from the verdict :
 
"A girl aged 24 years is weak and vulnerable, capable of being exploited in many ways. This court exercising parens patriae jurisdiction is concerned with the welfare of a girl of her age. The duty of this court to ensure the safety of at least the girls who are brought before it can be discharged only by ensuring that Akhila is in safe hands. The 7th respondent (Akhila's guardian) has proved that she is unworthy of the trust reposed in her, by her conduct in weaning Akhila away from her parents and by having a sham of a marriage ceremony performed with a person like Shafin Jahan, who is an accused in a criminal case, apart from being associated with persons having extremist links."
"Her marriage being the most important decision in her life, can also be taken only with the active involvement of her parents. The marriage which is alleged to have been performed is a sham and is of no consequence in the eye of law. The 7th respondent and her husband had no authority or competence to act as the guardian of Akhila and to give her in marriage. Therefore, the alleged marriage is null and void. It is declared to be so."
It is clear that Akhila has no consistent stand or a clear idea about her life or future. It is also clear that she is in a situation where she is acting on the diktats of some others who are bent upon taking her away from her parents.
Based on these excerpts Asianet Newsable spoke to legal expert regarding the legal and constitutional implications of the same. Renjith Marar, Advocate, Supreme Court of India explained how the Kerala High Court judgement was legally and constitutionally wrong.
He says, "Conversion is not the issue here as the court has permitted Hadia to remain in her converted religion and practice it at home. Secondly, they have said there should be a final report and an investigation carried out to provide conclusive proof that there has been a forcible conversion."
Coming to the marriage being nullified, the Advocate just stresses on what we all know and believe as our constitutional rights. He says, "How then can the court say that this marriage is nullified? It is the right of every individual to get married to a person of their choice and no marital law states that children can only get married to whom the parents choose. We practice it in our customs but there is no law.
"Any man who has attained 21 years and woman of 18 years can get into a legal relationship of marriage and it is based on their consent and not on their parents and if in 2017 also the court is practicing archaic laws then it is a pitiable situation. I don't think a progressive country can rely on this judgement."
Is the court legally right in annulling the marriage?
Advocate Renjith: Legally also the court is wrong. If the marriage has to be annulled legally both the parties have to come with a prayer of annulment and here the parents have come forward with a writ petition. At 24, this lady is absolutely capable of taking her own decisions so how can the court say she is not? This would mean that if in future the court finds there are other marriages under the special marriage act that the parents have not consented to it then what will happen?
Parents consent should apply to marriages of the same caste as well then there will be some 226 petitions coming in saying that my child's marriage has been done forcefully and that she has been brainwashed, as that is the contention taken up by the court.
Can the court annul this marriage?
Advocate Renjith: No. She has converted to Islam and got married according to Islamic rights and customs and this is personal law jurisdiction.  This is not registered under the Special Marriages Act. If it is then this marriage is invalid.
The entire issue boils down to one question 'Who chooses your religion?' You imbibe the religion that is forced upon you. Maybe the judgement reflected the Bench's personal religious beliefs. If peahens are being impregnated by tears then by virtue of that the Kerala High Court has only done this.
Last Updated Mar 31, 2018, 6:54 PM IST